Expansion II

BOOST YOUR POWER
AND CLAIM NEW REWARDS
New weapons, armor, and gear to increase your Guardian's power, including Fallen and Osiris-themed collections earned as top-tier rewards in new activities.
ASCEND

LEVEL UP YOUR GEAR TO 34
New Activity rewards will enable Guardians to upgrade old favorites. Legendary and Exotic gear from Destiny, The Dark Below, and House of Wolves can be boosted to the current maximum Attack, Defense, and Light values.
NEW CRUCIBLE ARENAS
THIEVES' DEN
ISHTAR SINK, VENUS
This Fallen hideout, located in the calderas of Venus, has been cleared for Crucible combat. The hideout itself remains intact, complete with an idling Skiff and constant reminders of the Fallen's presence, providing Guardians with a vital training ground.

Thieves' Den is a fairly large symmetrical map with precarious drops that offer alternate routes for those willing to risk the fall.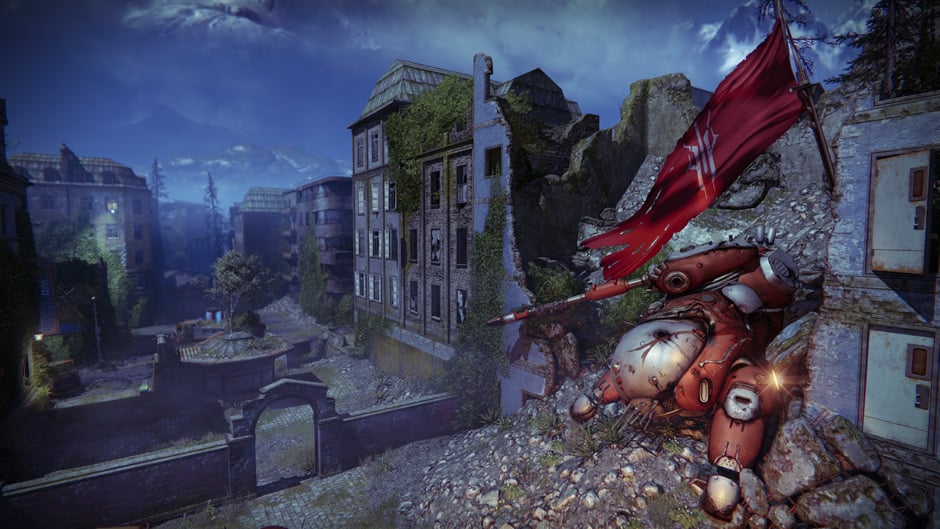 WIDOW'S COURT
EUROPEAN DEAD ZONE, EARTH
On the edge of the European Dead Zone, there are countless stories of the events that left this village a ghost town. Guardians now use its eerily quiet streets as a training ground chosen by Lord Shaxx.

Widow's Court is an asymmetrical map with both long sightlines and cramped interiors, supporting short and long-range strategies.
BLACK SHIELD
FIREBASE THURIA, PHOBOS
Codenamed "Black Shield," this decommissioned Firebase is believed to have been a key defensive position used by the Cabal when they established their warbase on the surface of Mars.

Black Shield is a symmetrical map with multiple chokepoints and an interior middle ground to hold, leading to frenetic encounters.
NEW COOPERATIVE STRIKE
THE SHADOW THIEF
A massive Fallen ketch has been spotted over the Moon, and a crew of Fallen cutthroats, led by the ruthless mercenary, Taniks, the Scarred, seeks to plunder the Hive's darkest secrets.

Guardian Fireteams are tasked with infiltrating the ketch and defeating Taniks before he can secure his prize.
MEDIA
TRAILERS + VIDEOS
SCREENSHOTS