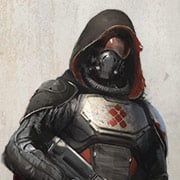 imtylerdurden
@Josh_Hamrick Senior Design Lead. Renee's Husband. Ian, Greyson & Teryn's Dad. Drummer. Full Sail Alumni. OG Hunter. Trouble Maker. Space Magician. Mind Viking!
About
Years on Bungie.net
Joined on Oct 02, 2006
Linked Accounts
imtylerdurden (ID: 76561197969621509)
Steam
Ranked PvP
Valor Rank
"A Guardian's best tool in combat is their Valor. Your light must be sharp if it is to cut through our enemies." —Lord Shaxx

A progression rank that goes up as you complete matches. Winning helps you move up faster, and there are no loss penalties.
Points to next rank:
0 10
Glory Rank
"Only those who forge their light in the fires of the Crucible can obtain true Glory. The opportunity is yours Guardian, take it." —Lord Shaxx

A progression rank that goes up when you win and down when you lose. Performance is how you move up here.

Complete 3 Survival matches each week to earn bonus Rank Points or prevent decay.
Points to next rank:
0 40