This Week At Bungie – 12/08/2022
Dec 8, 2022 - Sam
This week at Bungie, we have save the dates, Game2Give updates, oh ya, and a new dungeon tomorrow.
Happy TWABsday, Guardians! This week we have quite a bit to get into, but first, HAPPY SEASON OF THE SERAPH LAUNCH WEEK! OK, no more yelling. On deck (I promise, my last pirate-themed pun) for this week's TWAB, we've got a little bit of a TL;DR from last Season, some save-the-dates for this Season, and some "oh by the way's" just to toss in for good measure. We also have a few rad announcements, and honestly, I'll stop rambling now. Here we go!
First up, we have a quick "TL;DR, but also, I want to read now because I don't remember what was said." We know we share a lot of information in a variety of spaces across our site, and last Season was jam packed with sneak peeks, so we wanted to gather up the links and put them all together here for you:
Exotics and Weapon Perk Changes:
Destination Materials Update:
Deep Stone Crypt Weapon Crafting:
Just a note: Some of the formatting on those links might be a little off due to ongoing site maintenance.
Of course, those posts aren't the "end all be all" to changes within the game, but they are a good starting point for the conversations we continue to have. As always, sound off on socials with any questions!
Now, coming up for Season of the Seraph, we have a few save-the-dates:
The Dawning – Dec 13
Last TWAB of 2022 – Dec 15
Iron Banner – Jan 3
No Trials this weekend, but we'll be back Dec 16
Game 2 Give

Game2Give 2022 has arrived, and we would like to thank all Guardians for their support so far! The fourth edition of the Bungie Foundation's annual fundraising and streaming marathon runs until December 22. This year's event is our biggest yet, and we encourage all Guardians to get involved! There are so many ways to do so:
Exciting new donation incentives including the Light Hearted Exotic Sparrow, complete with a heart exhaust trail.
Exclusive lifetime fundraising rewards as part of the
Over 110 featured streamers to tune into, with Twitch Drops activated: Stream Schedule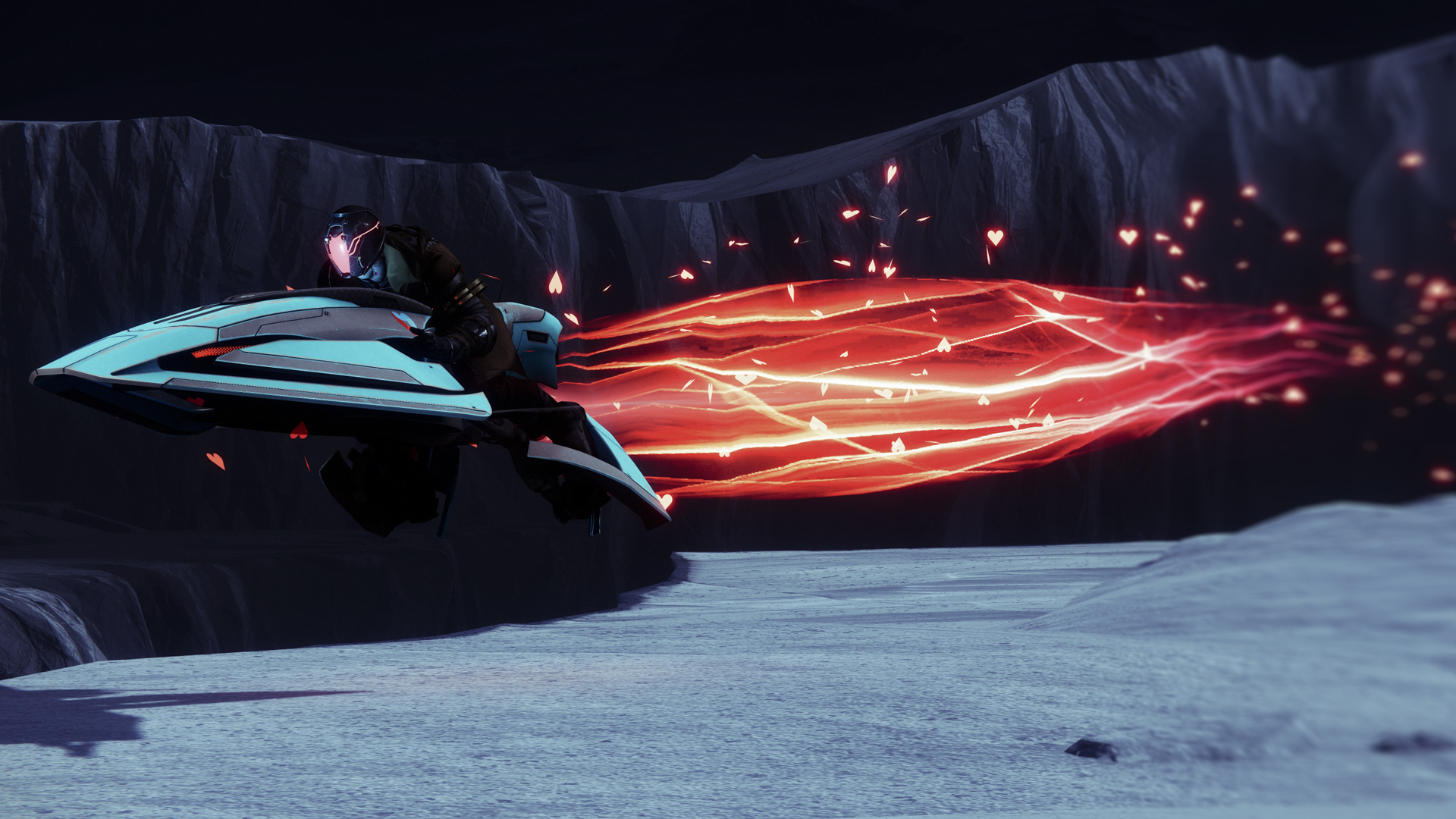 Help us reach our $2,500,000 goal this year and celebrate the revamp of the Bungie Foundation's flagship program, previously known as iPads for Kids, to the new Little Lights program! This new and improved program will feature our new proprietary Little Lights app, designed to curate age-appropriate entertainment, distraction, communication, and educational content for pediatric patients based on their unique needs at any moment of their hospital journey.

Head over to www.game2give.com to learn about Little Lights, donate, or fundraise – all while earning some incredible in-game incentives.
Thank you for your continued generosity in supporting our mission!
New Season, New Rewards in the Bungie Store
OK, I tried to cut this section, but only because I have literally missed the last two or three things I wanted before they sold out and I'm only a teeny tiny bit sad about it. (For legal reasons this is a joke.) Anyway, I know that this week is "new Season, new me," so if you haven't checked out what we have over in the Bungie Store as of reset, well, that makes sense because there is content to play. Here, let me give you a quick snapshot of what we've got.
First up, we have Moments of Triumph T-Shirts, a Seal, and a patch: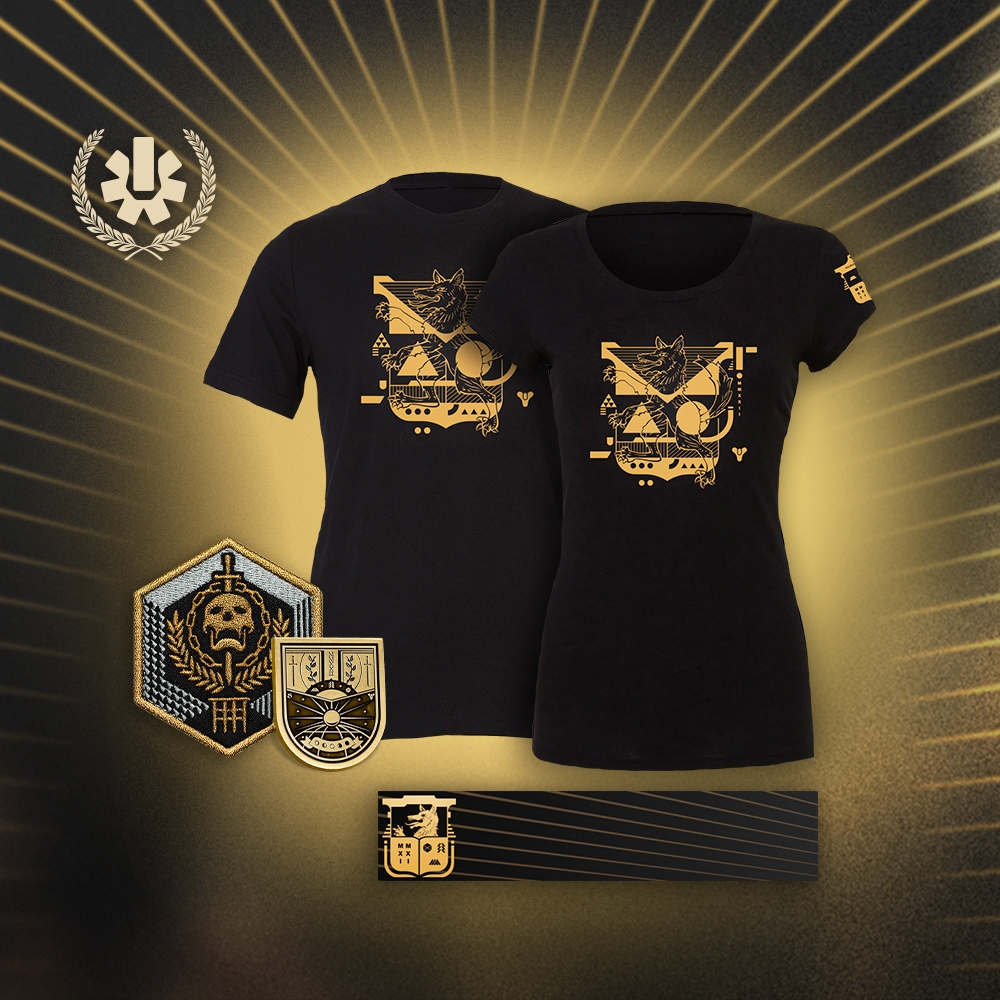 And tomorrow, December 9, be sure to check out even more Bungie Rewards from this Season, including this Tex Mechanica Henley and a few stunning Medallion pins. And to top it all off we have these new plushies, and this cute as heck mug and— you know what, just go check it all out here.
The Dungeon is Coming
Tomorrow. Dungeon. Spire of the Watcher. At reset. If you haven't already completed the free introductory mission of The Witch Queen, you will need to do that first. That is all... for now.
WORLD PREMIERE
The Game Awards are tonight and streaming live with tons of awesome *world premieres*(does anyone else say it in the voice or is it just me?), awards, trailers, Muppets, and awesome video game news and announcements. We get to join in on the fun with a little something to show off. Pre-show starts at 4:30 PM PST and the main show ramps up at 5 PM PST. Tune in to see a first look at our newest Lightfall gameplay trailer. You can find the stream on your platform of choice:
UBISOFT X Destiny 2
A Fashion show for the parkour enthusiast:
Last week we announced our crossover with our friends at Ubisoft and we want to share a little more about how you can be a part of it too.
Dress your Guardians up either in the styles of the (fashion) legends Kassandra, Altaïr, and Eivor or show us your own take on the *strong & silent* look. Share those over on socials with #LeapIntoTheLight, and three winners will be selected from each region and awarded the coveted Fashion emblem!
Leap of Faith:
Calling all Guardians who climbed the Iron Temple back in the Rise of Iron days, or have ever yelled "we're gonna have to wipe," before jumping off a raid platform just to see how far you could fall, you know, for science? Oh, do we have a thrill seeker's dream challenge for you.
Head into the world of Destiny and climb to the tallest peak and, well, leap. Record it and post it using the hashtag #LeapIntotheLight, and we will pick a few winners for #MOTW.
Art crossovers = endless shenanigans:
Now artists, we hope you didn't think we were going to ask you to jump off of anything, but we do have a pretty wild request. We think you're gonna wanna hear this.
What if you drew your Guardian within the world that Eivor lives in? Or possibly bring Eivor to the Tower? The Helm? Devrim's tower in the EDZ? The possibilities are probably endless, but who are we to put a limit on something. Prove us wrong and let's see how many #AOTW choices we can put in one TWAB.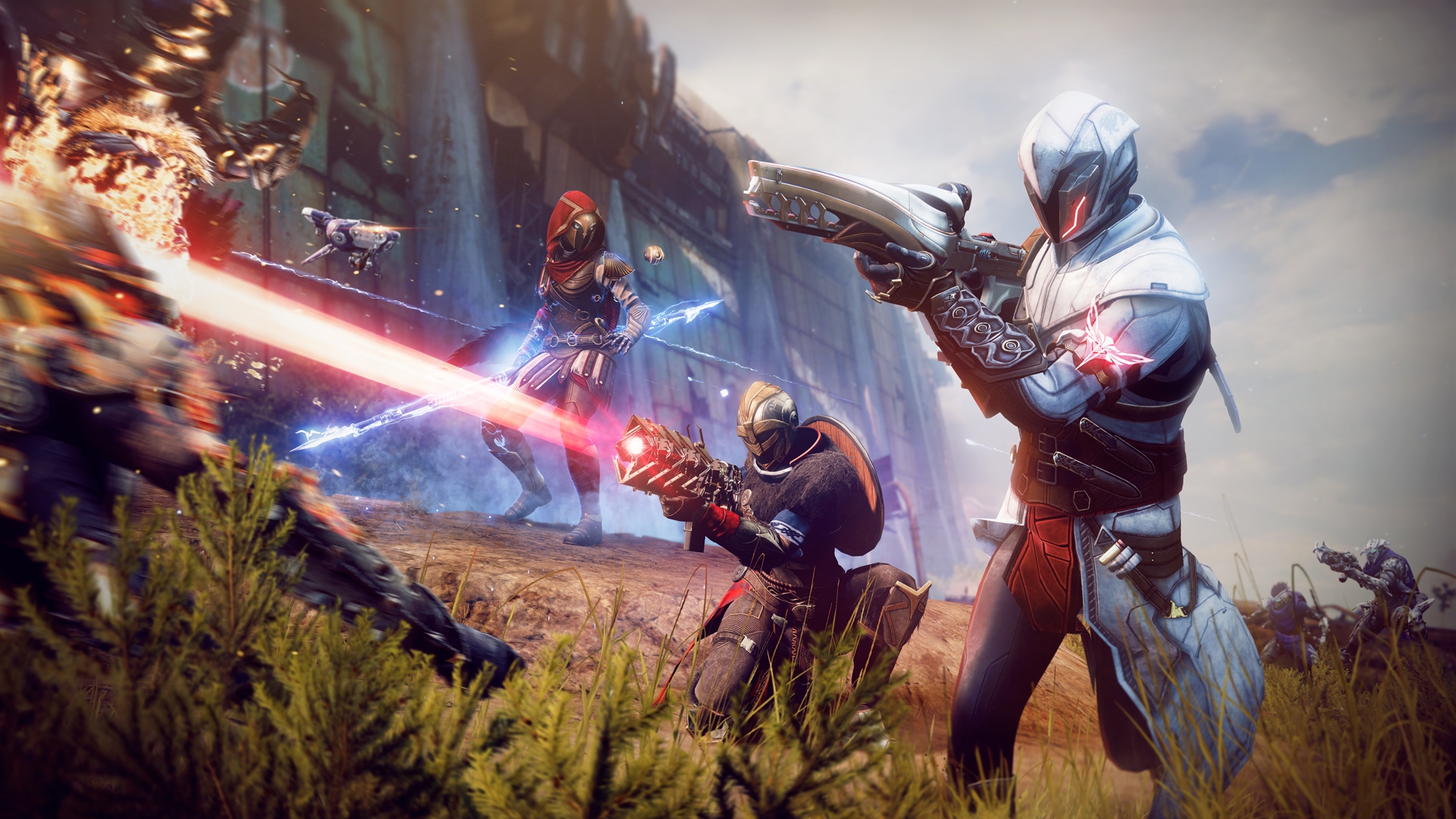 And last but certainly not least, we have a few things in the Eververse store to really bring the energy home. Tell Tess we said hi when you stop by!
Destiny Player Support
I'm Rasputengram!

This is their report.
Known Issues List | Help Forums | Bungie Help Twitter
UPDATE FOR DESTINY 2 ON STADIA
Destiny 2 on Stadia will go offline starting January 11, one week prior to Stadia shutting down. We hope this will give those players who haven't set up Cross Save yet enough time to do so before January 18.
For more information and help with Cross Save issues, please view our article.
MATCHMAKING CHANGES
We've made a few changes to Crucible's matchmaking. These changes aim to reduce match latency, but may increase matchmaking times. We are continuing to monitor matchmaking to see if these changes make a better Crucible experience.
ROSE HAND CANNON UPDATE
Players who had issues acquiring Rose after completing their seven Placement Series matches in Competitive Division should no longer be experiencing that issue, and they should have received the Hand Cannon upon logging into Destiny 2.
BUNGIE BOUNTY EMBLEM UPDATE
We are continuing to grant Bungie Bounty emblems who we missed in our initial grant. Anyone who submitted a ticket to our Missing Emblem Contact Form does not need to submit a new one. Even though you may receive a message that your ticket has been closed, we will reopen it when we have the resources available to grant more emblems.
GJALLARFOAM ORNAMENT CODES
Players who received a PDF download code for the Gjallarfoam ornament from the Bungie Store and had issues receiving a code should click on the link in the email to download the PDF again to properly retrieve their code.
UPDATE 6.3.0.1 NEXT WEEK
Update 6.3.0.1 will launch next week on Tuesday, December 13. For details regarding this patch, please view our Destiny Server and Status article.
KNOWN ISSUES
While we continue investigating various known issues, here is a list of the latest issues that were reported to us in our #Help forum:
Free players may be blocked from the Season of Plunder introductory mission, Salvage and Salvation, while Season of the Seraph is active. Players must first complete the Season of the Seraph introductory mission, Hierarchy, on Europa before they can access Salvage and Salvation in the H.E.L.M.

The "Project Sundown" quest step may not be able to be picked up if a player's bounty inventory is full. Players will need to make room in their inventory to pick up the quest step.

Some Seraph armor may display the message "Unlock this item in Collections to purchase" when viewing the Seasonal vendor screen. If a player sees this message, they may still need to earn the armor elsewhere before purchasing additional armor from the vendor.

Rasputin's name sometimes doesn't appear when speaking.

Sometimes two waypoints appear when Ghost is hacking the lobby door during the Mars Heist Battlegrounds.

Solstice armor ornaments that were synthesized (a.k.a. "transmog") no longer appear equippable.

Also, while players have been requesting that they be given the option to synthesize both the regular Solstice 2022 armor and the glow version, we're unable to do that for this armor set. However, we are looking into making that option available next time.

A player's character who can't play the Season of the Seraph "Hierarchy" introductory mission on Europa may need to first launch into the Throne World, watch the cutscene, and play through the first mission. Once this is complete, players can then play Hierarchy.

Some players are receiving a completed Seasonal Challenge notification that they can't claim. This should resolve in Week 3 and/or Week 5.

The Seasonal Artifact's description before acquisition still mentions playing the Season 18 introductory mission.

The catalyst for The Manticore appears in the Kinetic tab of Collections instead of the Energy tab.

Artifact mods aren't appearing in regular class Items, but are appearing in Artifice class items.

The Unstoppable Hand Cannon mod cycles the Unstoppable perk when aiming down sights on any weapon, causing the audio to loop.

Players can get stuck in the lasers in the Europa Heist Battleground.

The Wellspring perk is not splitting ability energy gains properly.

Audio for the Coldheart Exotic Trace Rifle has been changed.

The Rift game mode was appearing in Competitive Division significantly more than intended. This issue has been resolved as of Wednesday afternoon.
For a full list of emergent issues in Destiny 2, players can review our Known Issues article. Players who observe other issues should report them to our #Help forum.
Seventh Column and chill?

How about them movies?
Ivan: With today's #MOTW pick, you'll travel throughout different in-game locations in a special, melancholic way. It's the perfect video for a cold evening and a hot beverage near the fireplace. Enjoy!
Please keep sharing your Destiny creations using Bungie.net Creations page, or #MOTW and #AOTW hashtags on social media.
Movie of the Week: Destiny 2 - Lost Again
Bruno: DOUBLE DOWN on your goals. You might fail at first, YES, but get up even if you go THREE times DOWN. Destroy the walls blocking your path, LOOK AT THEM FALL and rejoice: YOU'RE UNSTOPPABLE. Embrace that PHENOMENAL instant and start feeling the...
Movie of the Week: SEVENTH COLUMN!!!!!!!!!!!!!!!!!!
7th column in team scorched.#MOTW#destiny2@Bungie @DestinyTheGame pic.twitter.com/FJnacF2HGZ

— EMFA (@EMFA889) December 4, 2022
Seraph, Strand, and Them (tm)

Hippy: Look, I'm going to be 100 percent real with y'all right now: I'm still not over that scene from last Season. I may or may not have spent far longer than probably wise enjoying all of the incredible artwork to celebrate the best space dads around: Saint-14 and Osiris. While I would love to choose fifty for my AOTW pick, alas—there can only be one. But just know, they're all pretty great, and you all are nothing short of incredible. Highly recommend checking out the tags for those characters on social, it's a trip in the best possible way!
Anyway. Them:
Art of the Week: A teacup and a reunion
O14 Week Day 2 - Home#destiny2 #destiny2art #O14Week2022 #potterypainting pic.twitter.com/Vc7IkJoJWP

— ItsTal! (@ItsTal7) December 1, 2022
Sam: It's 3 PM on Tuesday when I am writing this section specifically (just for clarity, MEER HOURS AFTER THE SEASON LAUNCHED) and the fact that THIS IS ALREADY HERE is wild. You artists are a special type of Guardian, and I just love love the way you capture so many stories in all you do.
Art of the Week: Seraph
Seraph#Destiny2 #Destiny2Art #destinythegame #AOTW pic.twitter.com/EQMhY3QTK9

— Plumli (@Plumli_Art) December 6, 2022
Hippy: We're simple Guardians: we see a cool replica, we share the cool replica. Here's another bonus round for the books. We Trustee that you'll see why when you check it out for yourself:
Bonus Art of the Week: Trustee's Strand
Hand drawn strand by hand drawn strand, Trustee's finally done. (1/2) #Destiny2 #Destiny2Art #AOTW @A_dmg04 @DirtyEffinHippy @Cozmo23 pic.twitter.com/zDaLsDeE8j

— Prismatic Skye (@PrismaticSkye) December 4, 2022
---
And there we have it Guardians, the second to last TWAB of 2022. Just a reminder: next week will be our last TWAB until the new year. Obviously, we don't want to spoil anything, but we know there is a lot to absorb this early in a Season so be sure to sound off on socials with any feedback or questions.
We hope the start to your holiday season has already brought you peace and lots of cookies.
(One more time: Dungeon tomorrow. There is a new dungeon coming tomorrow. Just in case it wasn't clear. 😊)
Stay crafty,
Sam