This Week In Destiny – 09/28/2023
Sep 28, 2023 - Sam
Happy Twidsday, Guardians! We are back this week with some previews and new rewards to earn! How have you been enjoying the Season of the Witch story? How many Altars have you completed so far? Thoughts on Checkmate? Speaking of Checkmate, keep reading to learn about some changes coming soon! Make sure you're sounding off on socials so our teams can read your feedback.
First up, let's refresh what we talked about last week.
Jumpmaster campaign has landed.
Crafting shenanigans: What happened?!
Deterministic recoil: What is it and why is it so heckin' cool?
Treasure vault adventures await.
So, we heard you wanted a Thorn catalyst...
The Pale Heart awaits.
The team had a little too much fun with the new Supers coming out in The Final Shape.
A little bit of lo-fi makes everything better—now with Eris!
Prime Gaming update.
Yeet the smollen (fun clip).
Topics for this week:
New rewards to earn.
A preview of next week's Checkmate weapons update.

Gunsmith

focused world engrams.
New Nightfall and Trials Rewards
Have you jumped into this week's Nightfall yet? If not, there is a new Precision Bow for you to earn! Speaking of new weapons, when Trials comes back this weekend, we have a new Grenade Launcher in that loot pool, too! Let's check out what we've got coming.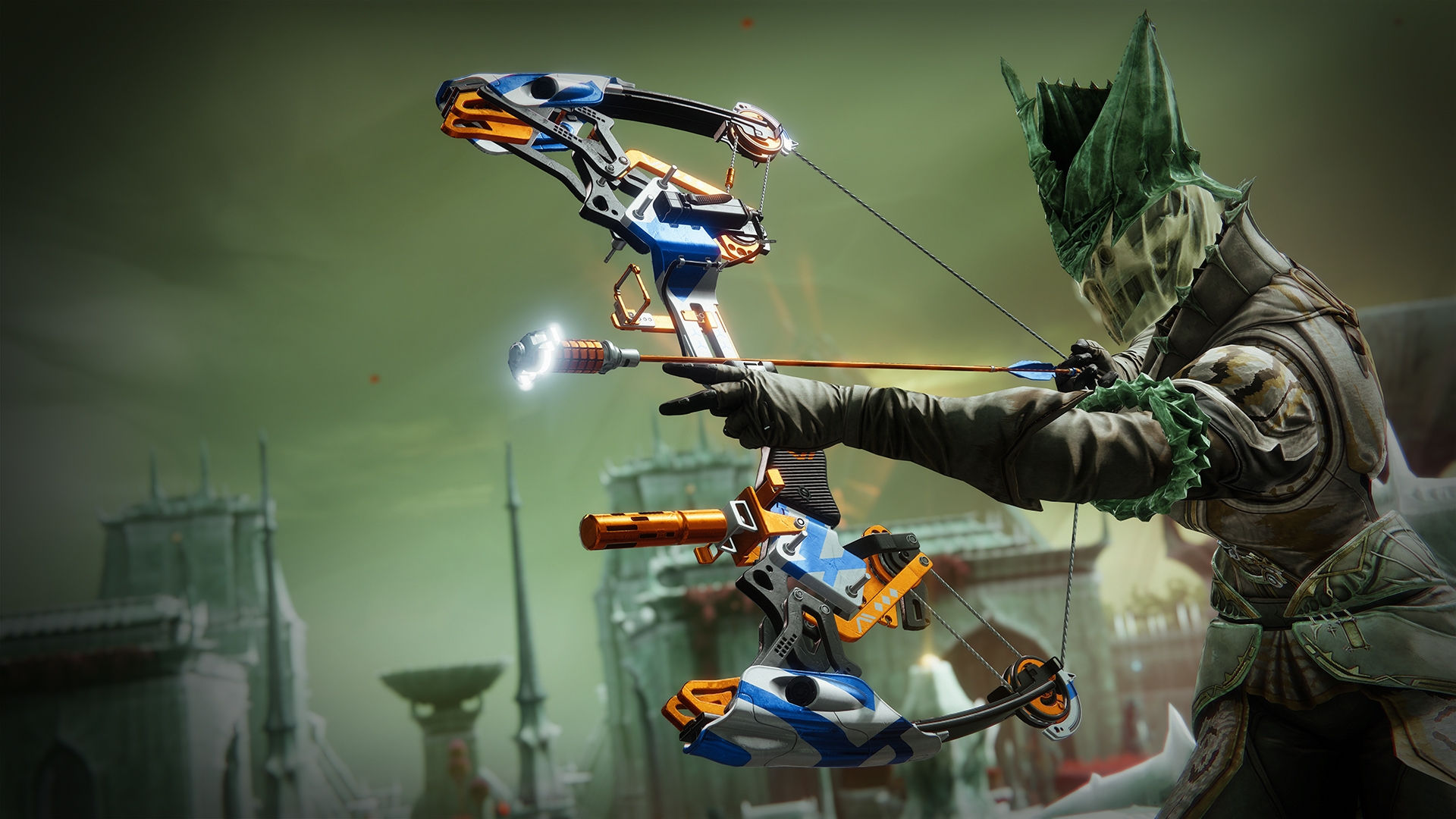 New Nightfall Bow: Pre Astyanax IV
Precision Bow: Solar (Cassoid foundry)
Left Column: Perpetual Motion, Archer's Tempo, Perfect Float, Shoot to Loot, Enlightened Action, Rangefinder
Right Column: Incandescent, Collective Action, Successful Warmup, Opening Shot, Explosive Head, Precision Instrument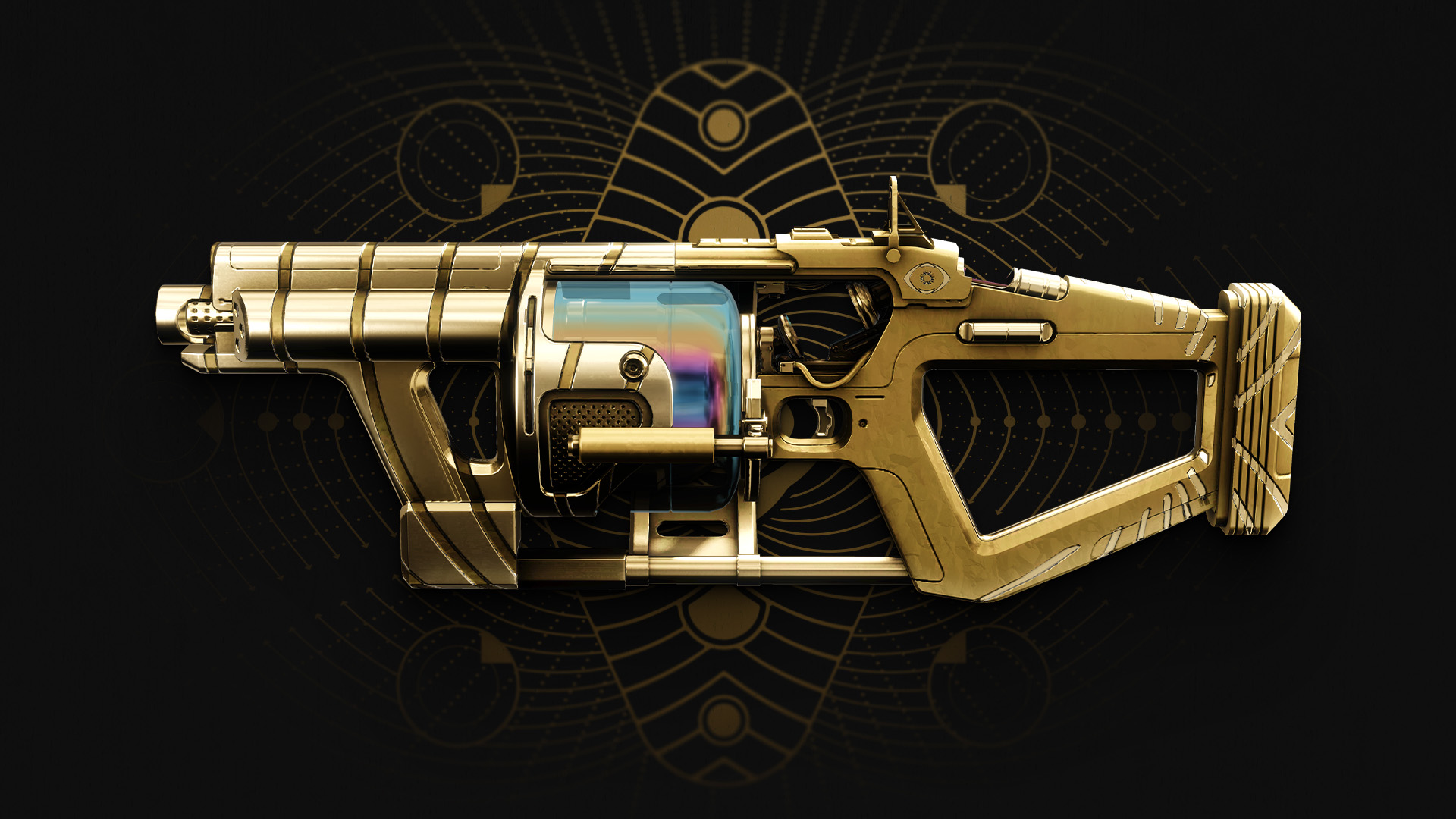 New Trials Grenade Launcher - Cataphract GL3
Adaptive Heavy Grenade Launcher – Strand (Omolon foundry)
Left Column: Impulse Amplifier, Envious Assassin, Field Prep, Slickdraw, Enlightened Action, Auto-Loading Holster, Demolitionist
Right Column: Cascade Point, Chain Reaction, Explosive Light, Hatchling, Full Court, Vorpal Weapon, Bait and Switch
Checkmate Weapons Update
For Checkmate's initial weapon tuning, we wanted to make sure that our mid-range Primary weapon options had a bit of room to breathe, so we balanced the other weapon types somewhat conservatively. We did this because, in early playtests, it quickly became obvious that a sandbox with dramatically reduced uptime for Special ammo and abilities introduced a new issue to the game. With most of their counters no longer able to see consistent play, it enabled fast time-to-kill (TTK) Primary weapons that operate at the extreme edges of either close or long range to dominate. Diving with Submachine Guns and Sidearms became increasingly hard to deal with as players learned that other Primary weapons could not kill as fast, and our mid-range options struggled to compete. Similarly, when we reduced the lethality of close-range Primary weapons to bring them more in line with our mid-range options, Scout Rifles became oppressive without the threat of Sniper Rifles to keep them in check and prevent players from engaging at extremely long range.
In addition, we wanted to avoid initially making any extremely jarring shifts in TTK—for example things like 140 Hand Cannons taking four shots to kill across the board—so we limited how much we moved TTK in general. After seeing Checkmate in the wild for a week, we saw there was a substantial gap between Hand Cannon performance and the rest of the Primary weapon sandbox. So, while keeping our original goals in mind of allowing mid-range weapons to shine in this mode, we are making a limited set of balance changes designed to narrow the gap without pushing faster TTK Primary weapons back into dominance. For example, Submachine Guns and Sidearms will not revert to killing in under 0.80s, due to the increased player health pools, but we do want to give them a little more forgiveness and encourage some additional variety among weapon choices. Weapons like Adaptive and Rapid-Fire Pulse Rifles have come back to their standard optimal TTK, while most other weapons have moved to within a single shot difference. While most of our tuning is focused on bringing other archetypes up closer to the top level of Primary weapon performance, we are going to be reducing Hand Cannon damage. This will not affect their optimal TTK against standard resilience but will instead act as a reduction in effective range and reduce their forgiveness and effectiveness against higher resilience targets. We look forward to playing with these changes in the live game alongside you and will continue to iterate on the sandbox as needed.
Here are the weapon changes coming to Checkmate next week:
Increased damage penalty on:
Devil's Ruin laser beam - 10% to 15%
Fighting Lion - 0% to 20%
Bows - 0% to 10%
Reduced damage penalty on:
Sidearms - 10% to 5%
Submachine Guns - 5% to 0%
Scout Rifles - 10% to 9%
Increased bonus damage on:
Auto Rifles - 0% to 2%
Pulse Rifles - 0% to 5%
Reduced bonus damage on:
Corrected an issue that was allowing Vex Mythoclast to benefit from the bonus damage for Special ammo Fusion Rifles.
Gunsmith

Focusing enters the chat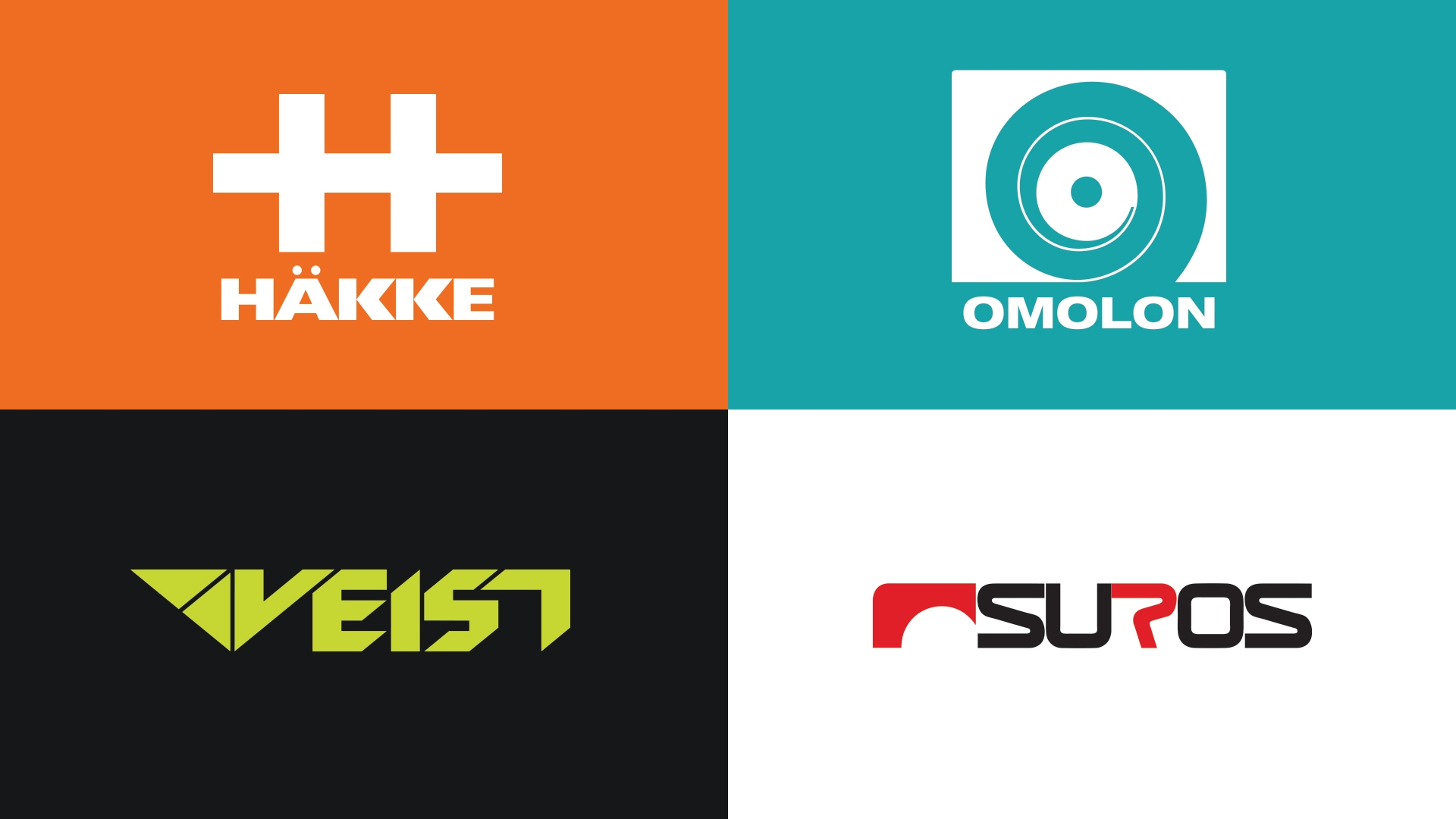 Starting in Season 23, Banshee-44 will offer focusing options for select foundry weapons. Gunsmith focusing is designed to offer players a way to chase after their dream roll of older foundry weapons while reducing the ever-growing size of the Legendary world pool.
What weapons will be available?
The select focusing options that Banshee-44 will offer are for weapons released from Season 16 up to Season 19, which means that these weapons are at least four Seasonal releases old (i.e., one year). These weapons will no longer be obtainable from Legendary Engram world drops and instead will be only available from Gunsmith Engrams and focusing.
Season 23 Gunsmith pool and focusing:
Suros
Cantata-57
Syncopation-53
Fugue-55
Staccato-46
Pizzicato-22
Fioritura-59
Häkke
Palmyra-B
Perses-D
Ragnhild-D
Enyo-D
Boudica-C
Lodbrok-C
Veist
Krait
Redback-5si
Funnelweb
Lunulata-4b
Taipan-4fr
Jararaca-3sr
Omolon
Snorri FR5
Typhon GL5
Ogma PR6
Gallu RR3
Ammit AR2
Aurvandil FR6
In Season 24, we are planning to update this list with Season 20 weapons for existing foundries as well as adding a new category for Field-Forged weapons.
Gunsmith focusing will also be replacing Banshee-44's six-count weapons section.
The following weapons will be moved out of the world pool. These will not be available from Gunsmith Engrams or focusing but will instead be occasionally available from Xûr instead.
Contingency Plan
Legal Action II
The Number
Memory Interdict
Pleiades Corrector
The Deicide
The Vision
Stochastic Variable
How will these weapons rotate?
Banshee-44 will offer two foundries at a time (e.g., Suros and Häkke). After each daily reset, one of these foundries will rotate out for another, effectively allowing each foundry to have the spotlight for two days in a row.
For Season 23, the rotation schedule looks like:
Day 1
Day 2
Day 3
Day 4
After the fourth day, the rotation repeats itself.
This is subject to change as we add more foundries in future releases.
How much will they cost?
Gunsmith focusing costs will be in parity with how much focusing ritual weapons costs.
3 Gunsmith Engrams
5,000 Glimmer
How can I get Gunsmith Engrams?
We are aware that ranking up Gunsmith reputation alone is not the ideal way to earn Gunsmith Engrams. We have taken that into account and have decided to include more ways to obtain Gunsmith Engrams!
Ranking up Gunsmith Reputation
Lost Sector Completions

Normal (20%)
Legend (Solo and Platinum) (40%)
Master (Solo and Platinum) (60%)

Free-roam Chests (20%)
Player Support Report
Fall-en right into fall. No? I'll show myself out.

Known Issues List  |  Help Forums  |  Bungie Help Twitter/X 
ERROR CODES
We are continuing to investigate ongoing reports of error codes in Destiny 2. Please stay tuned to @BungieHelp for further updates and report issues to us in our #Help forum.
CROTA'S END 48-HOUR CHALLENGE MODE EMBLEM
We are working to ensure players who completed the Crota's End Challenge mode within the Contest mode window are properly credited with the All For One Triumph and associated emblem. Additional updates will be provided when available.
For more information on this issue and the steps being taken to resolve it, please see the Player Support Report in the September 14 edition of This Week in Destiny.
KNOWN ISSUES
While we continue investigating various known issues, here is a list of the latest issues that were reported to us in our #Help forum:
Players can sometimes become soft-locked during The Bladed Path by progressing through different steps of the quest at the same time.
The Path of Burning Steps Titan Exotic and associated ornaments no longer change appearance when the Solar Weapon Boost perk is active.
The Hoarfrost-Z and Icefall Mantle Titan Exotics are using the incorrect cooldowns.
When inspecting weapon details for items stored in player Vaults, the weapon perk icons may no longer appear.
Some players who did not fully complete the Season of the Deep story missions may be blocked from completing the current Season of the Witch weekly story mission until they finish the previous Season's story.
Returning players who did not fully complete the A Guardian Rises intro quest prior to the launch of Lightfall are unable to obtain the Learning Light quest.
Multiple pieces of arm armor can cause obstructions when aiming down sights on the Tessellation Exotic Fusion Rifle.
For a full list of emergent issues in Destiny 2, players can review our Known Issues article. Players who observe other issues should report them to our #Help forum.
Jumpmaster

Hippy: When Jared Gross and I first started Veteran Vanguard here at Bungie—as veterans ourselves— it was important to us that our teams felt cared for and supported, especially those that may be struggling with the difficult transition back to the civilian world. Never in our wildest dreams did we anticipate getting to work with the incredible Team Rubicon team, a veteran non-profit organization that does so much good in the world. When the Bungie Foundation, Team Rubicon, and Veteran Vanguard combined their forces, the amazing Jumpmaster emote, emblem, and spiffy new pin were born. If you missed that announcement, check that out right here. But before you go, you should totally check out this #Destiny2MOTW pick, because it shows off the new emote in an authentically badass way. With some Titan shenanigans at the end. Because naturally.
Movie of the Week: All OK, Jumpmaster
So, who broke it?

Bruno: The Craftening was certainly... something. A challenge to fix, but one of those things that some of you enjoyed very much and that sparked the creativity to not only make the most unfathomably broken weapons in the history of Destiny, but also some fun short comics like the one below. I'm also a Parks and Recreation fan, Polux!
Art of the Week: The Crafting Mystery, by Polux (a.k.a. Hyakunana) via Twitter/X. (Click to read the whole comic!)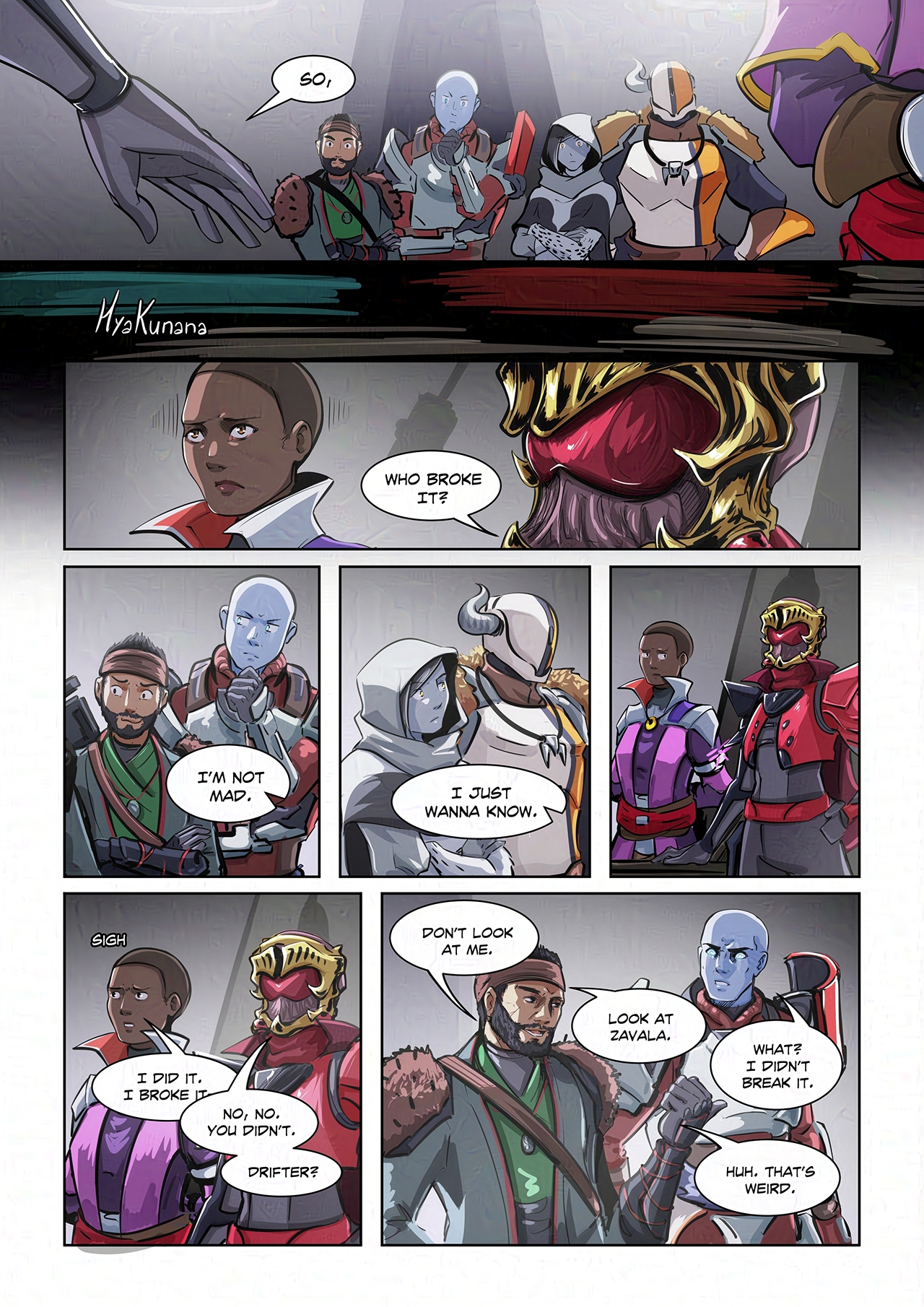 __________________________________________________________________________________________________________________
And there we have it for this week's TWID. We have officially reached the time of year where the nights are longer than the days here in the Pacific Northwest, so it's about time to transform into the coziest version of yourself and jump into your favorite Destiny 2 activity until the sun comes up. Well, maybe not that long; sleep and touching grass before it's covered in snow is good, too. 😊
Thanks for hanging out with us today. We will see you next week, same place, same-ish time.
Stay crafty,
Sam