This Week At Bungie – 04/27/2023
Apr 27, 2023 - Sam
Hi Guardians, welcome to this week's TWAB! This week we have quite a few things to talk about, so keep right where you are and lets transmat into it, ya?
First up, as we do, here is your TL;DR from last week's TWAB:
Highlights from the mid-Season patch.
Key updates from our recent Accessibility Options article.
The first community Exotic weapon ornament is coming to Destiny.
The next community ornament vote.
Last week of Iron Banner in Season 20.
Weekly #Destiny2MOTW and #Destiny2AOTW picks.
And let's get you set up with this week's topics:
Guardian Games and Guardian Games Cup are returning May 2!
Trials community map vote.
Preview of upcoming Strand updates.
Cosplay reference information.
Exotic ornament winner announcement.
Movie of the Week and Art of the Week.
Guardian Games Return on May 2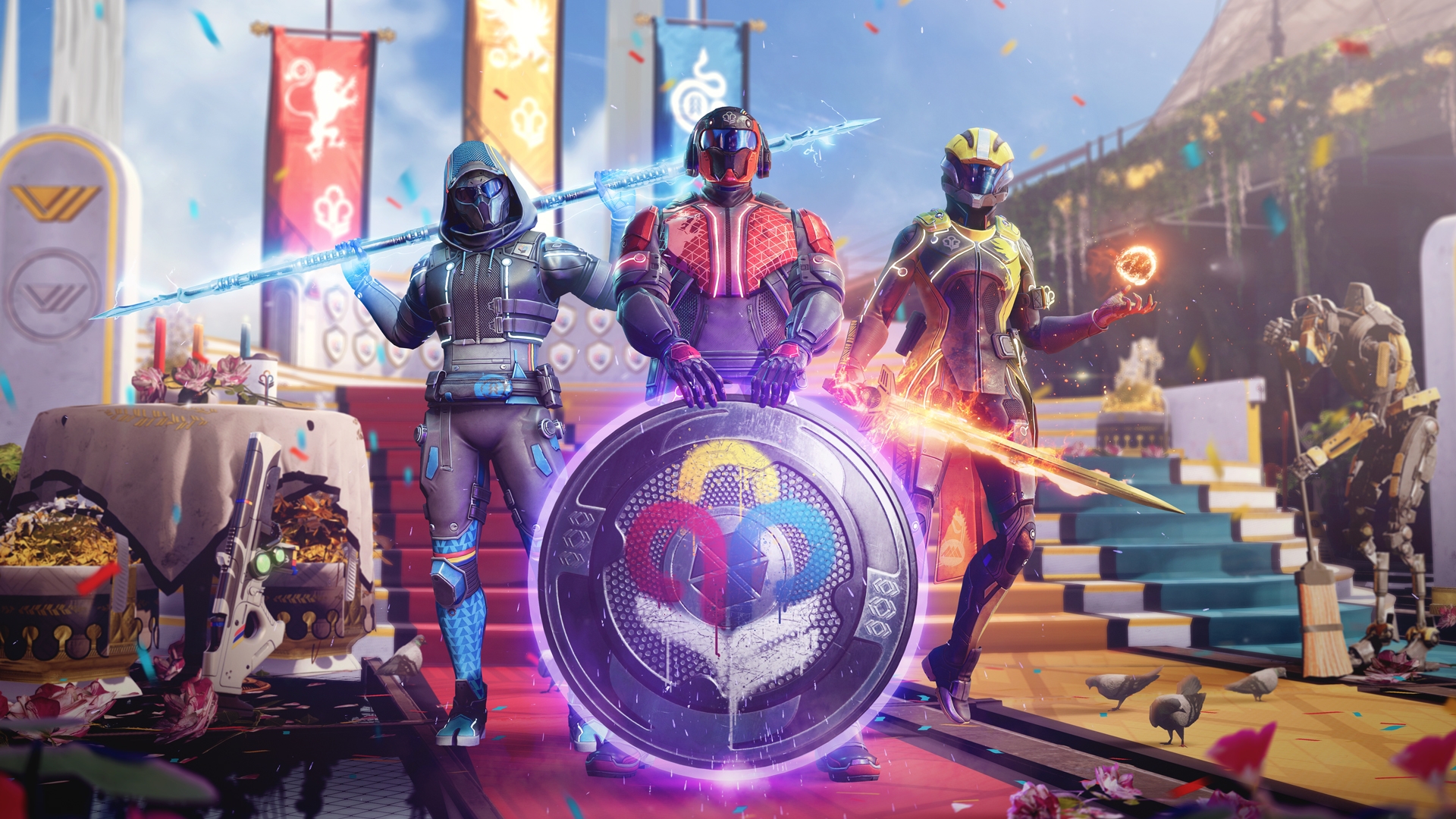 Yesterday, we covered all the details about Guardian Games and the Guardian Games Cup returning next week. This year, we're delivering new additions to the event and bringing back some classics, including the Supremacy PvP mode first introduced in 2016. Go collect those crests, Guardians!
This year's Guardian Games will feature the new class-based matchmaking system, where full teams of a single class type face off. The Laurels currency are out, Medallions are in, and The Title Void SMG is back. Oh, and we're introducing Taraxippos, the very first Strand… actually, go check out the blog post for all the details.
The Guardian Games Cup is also returning, and it's open to all players this time around! Register your team and compete to dunk the most Medallions, raise money for some great causes, and win truly special rewards. Prizes for the top teams across two categories include custom team artwork, Guardian Games pendants, the Apricot Dawn emblem, and more. Visit the Guardian Games Cup page for more information on how to get started.
It all begins on Tuesday, May 2! Make sure you say hi to (Grandma) Levante, raise some money with the Bungie Foundation, and have fun out there.
Trials Community Vote
Alright Guardians, it's time to get your Trials map voting on again. This time we have Rusted Lands, Convergence, and Disjunction up for grabs. On May 2, players that signed up for Bungie emails will be able to vote for which map they want to see.
Trials Community Map Vote:
• Rusted Lands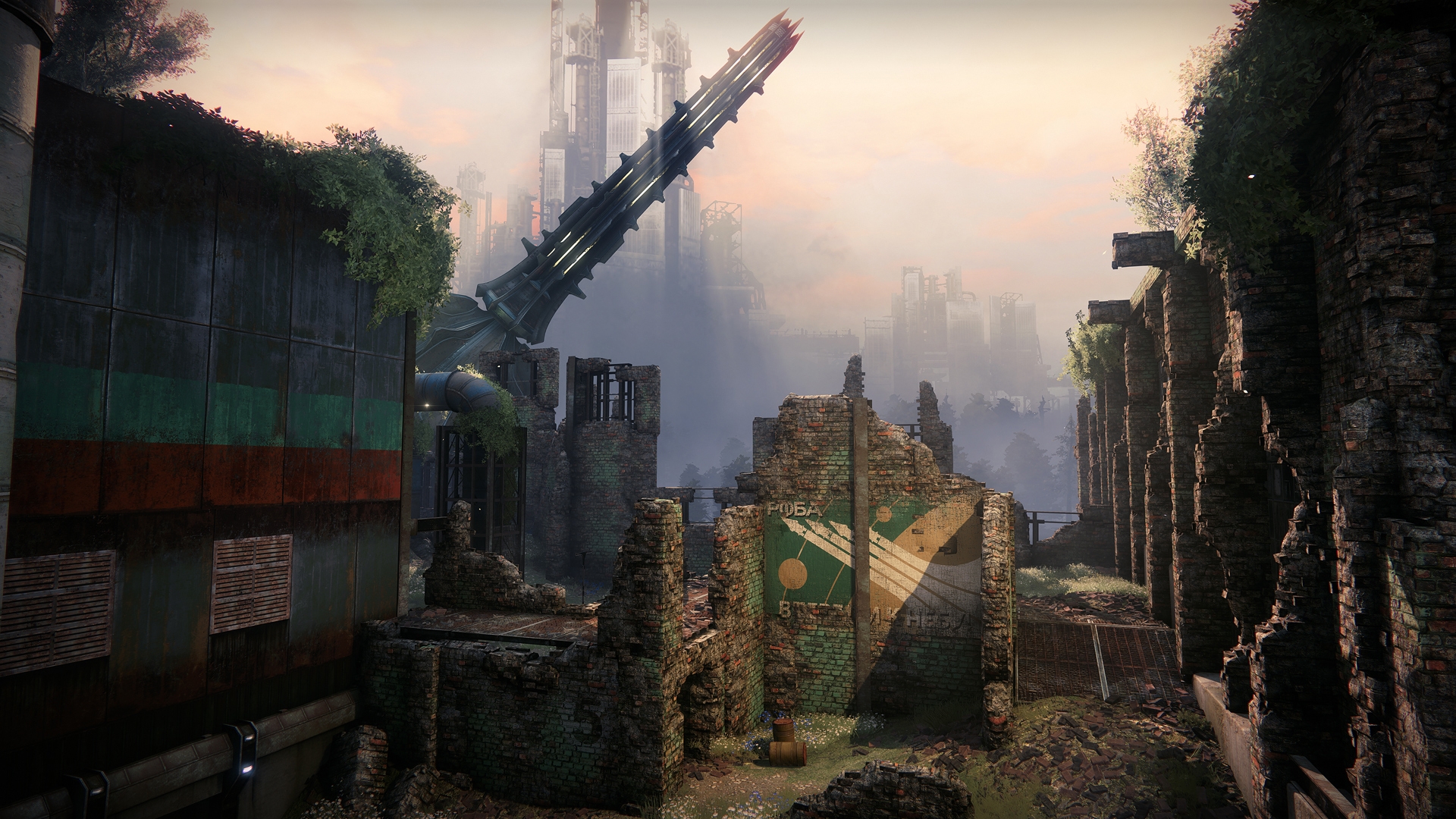 • Convergence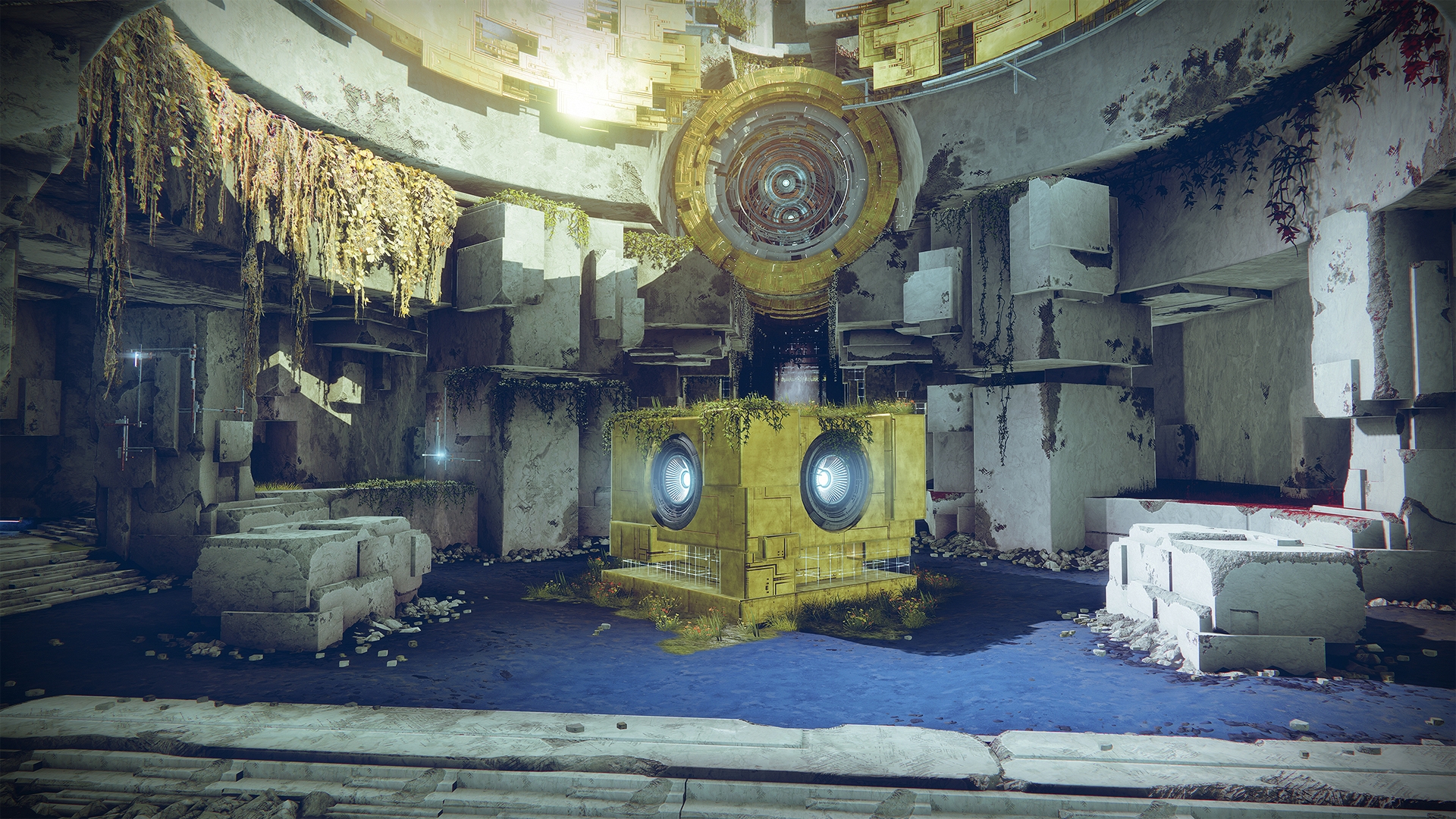 • Disjunction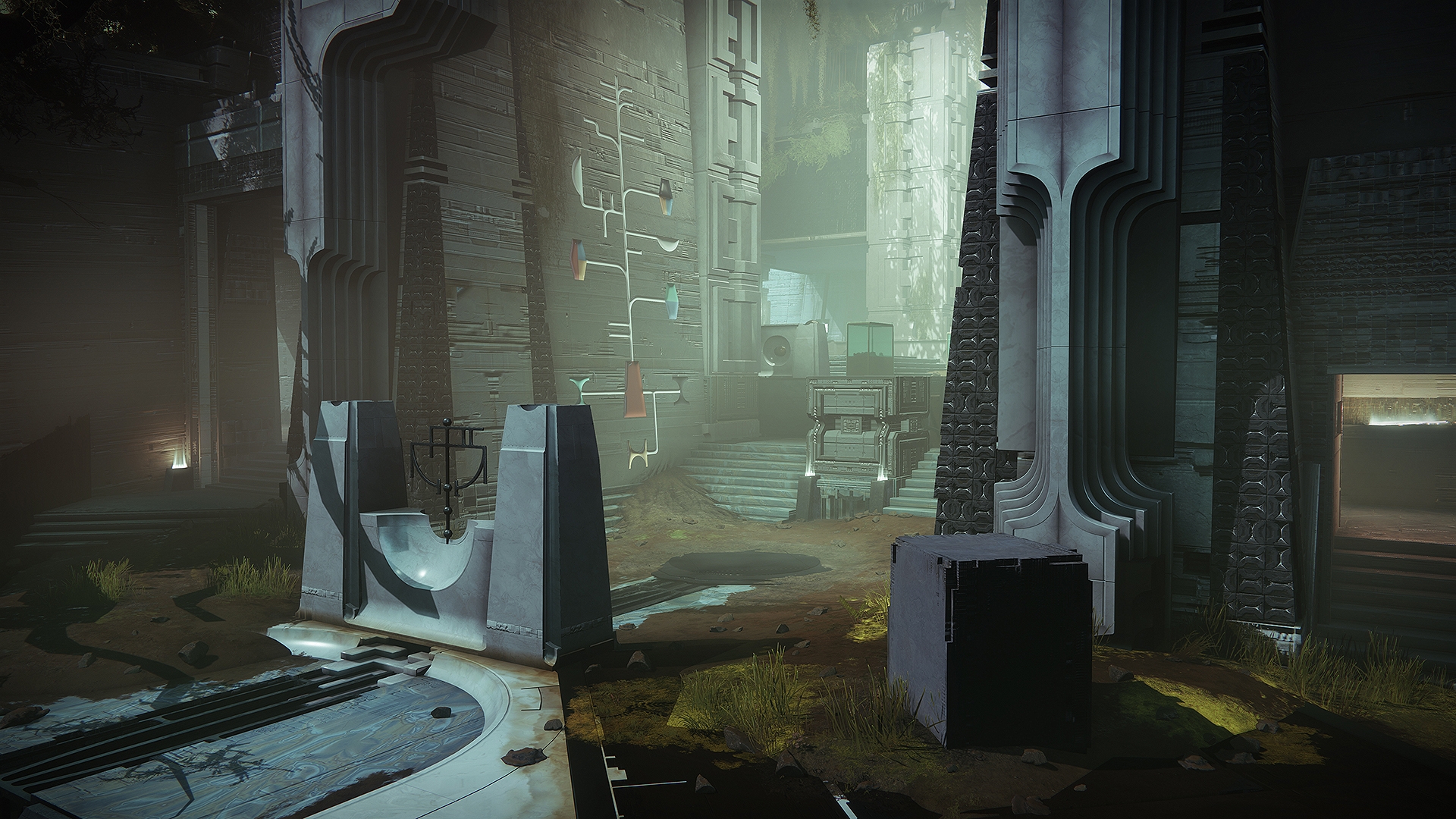 Upcoming Strand Updates
Sandbox team here to make a patch notes clarification and provide a quick preview of an ability-balance article we'll be posting next week. We wanted to provide more clarity on the change to the Ashes to Assets and Hands On armor mods in the patch notes we released after Update 7.0.5.0 went live earlier this week.
Our patch notes made it sound like when both the Ashes to Assets and Hands On are equipped, only one of the mods will work. In reality, these mods can still be used at the same time, and the change here is that defeating an enemy specifically with the grapple melee will no longer double dip and count as both a grenade and melee kill. This change was made to make the grapple melee consistent with how other abilities in the game interact with these mods.
On the subject of Strand abilities, we're generally happy with how Strand is performing, and we're continuing to monitor data and player sentiment as we move forward. We'll be balancing Strand over time, but in the short term, we're making some Strand changes in Season 21 as part of a larger ability-balance pass. Today, we'd like to give you a preview:
Grapple 

Reduced base cooldown from 105s to 82s. 
Reduced the minimum time between grapple activations from 2.5s to 0.2s

Strand Hunter 

Threaded Spike

Increased damage vs. PVE combatants by ~55%. 
Increased projectile travel range before beginning to return to the player by 30%. 
Slightly reduced speed of the dart as it returns to the player to make catching it easier. 
Increased energy gain for catching the dart based on the number of enemies hit. 
Now pierces Cabal Phalanx shields. 
Artist Reference Collection
After we released the previous artist reference collection, we saw a lot of amazing fan art and cosplays. We hope the flow won't stop; therefore, today we are publishing a new batch of reference kits for various Destiny characters. This time we're including masculine and feminine versions of Thunderhead armor sets for Hunter, Warlock, and Titan, as well as Osiris, Saint-14, Nimbus, Rohan, Calus, Nezarec, and a lovely pouka, Neomuna's favorite pet. We know that you want more, and we'll keep adding characters in the future, so keep the page bookmarked.
Your creations motivate us greatly and we can't wait to see what you'll come up with!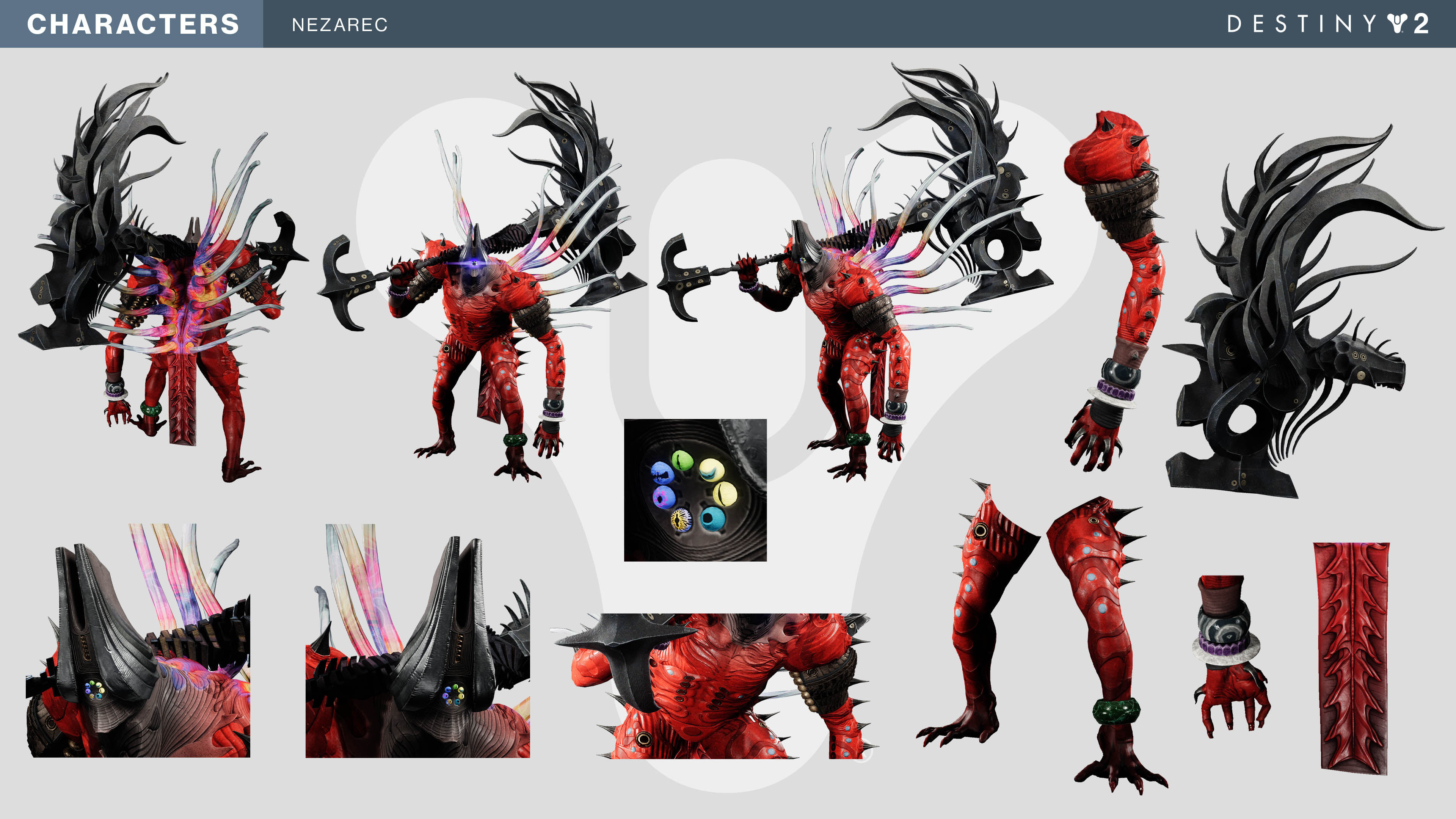 Exotic Ornament Winner Is...
And the winner of the community vote for the community artist exotic ornament vote issss... [drum roll] Witherhoard! And goodness was the vote not as close as we had hoped it would be for the sweet, sweet Thunderlord, (press F for Izanagi's Burden). But honestly, we couldn't go wrong with any of them. Thanks for voting, Guardians.
• Witherhoard: 45%
• Thunderlord: 36%
• Izanagi's Burden: 19%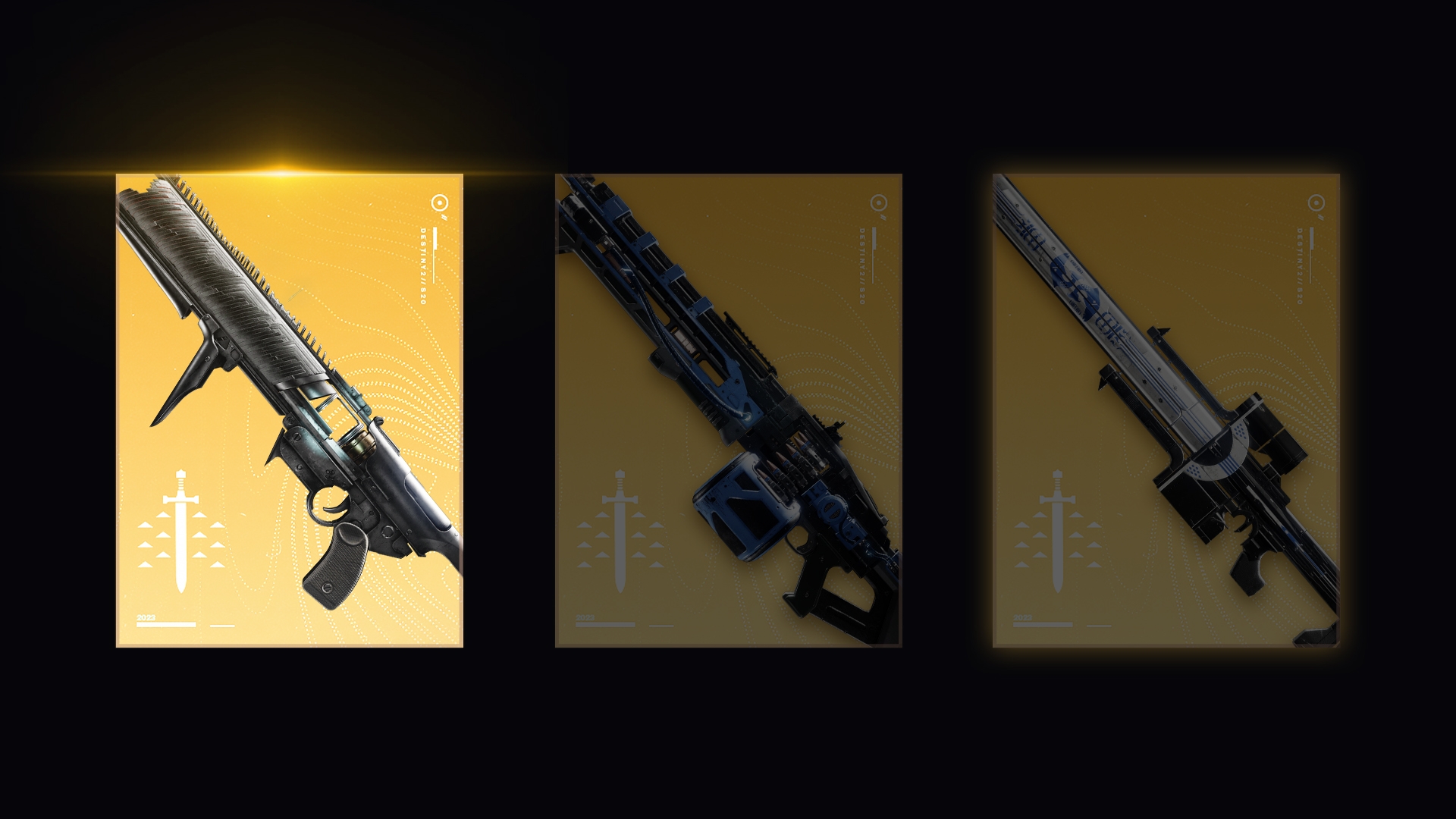 We will be syncing up with our community artist to cook up three ornament concepts for you to choose from in a future TWAB.
Adopt-a-Pet
Have you ever thought to yourself, "aww self, I want to have all the best friends in Destiny…" but your collection is missing a sweet little wiggle worm, a goodest of good boys, the bestest of toe beans, and the one who crossed the road? Well, you're in luck!
We know we tend to share the items we have for sale on socials, but today we just had to share the Best Friends bundle! So head on over to Eververse and get your bestest friends! And bonus, if you already happen to have one of these cuddle babies in your collection, you don't have to pay for it again, you'll just snag a discount on your bundle. Now go get your new best friends and give them an extra treat from us! (Pro tip: we heard the wiggle worm loves pop rocks.)
Destiny Player Support

Every time we get to introduce the Destiny Player Support team, I hear all the best wrestling intro songs playing at full blast in my head, and I think that's just a glimpse into the radness that is DPS. Here they are to share known issues and other important information.
PLAYER SUPPORT REPORT
Saladin, let me into the Iron Temple, I want to meet the wolves.
Known Issues List | Help Forum | Bungie Help Twitter
BUNGIE REWARDS DEADLINE
The following Bungie Rewards have deadlines that are approaching. Players who are interested in these rewards should be sure to purchase them before the following dates:
Bungie Store Archangel Dog Plush: April 28, 2023, 11:59 PM PT
Bungie Store Root of Nightmares Raid Jacket: April 30, 2023, 11:59 PM PT
KNOWN ISSUES
While we continue investigating various known issues, here is a list of the latest issues that were reported to us in our #Help Forum.
Players who previously acquired the Brazen Spark ship are blocked from completing the Last Will and Testament quest.
Players are unable to claim Twitch Extension Bounty Rewards from the Cryptarch.
Some Guardian Games Triumphs are activating earlier than intended. As a result, the Titles tab now flashes as though something is unlocked. These Triumphs will be able to be claimed when Guardian Games launches.
In the Lake of Shadows Nightfall, wiping in the final boss room will cause some enemies and Champions in a previous room to respawn, blocking Platinum rewards.
The Vexcalibur catalyst Triumph is not completing.
Some gilded Titles are no longer gilded, and some associated Triumphs have been marked as incomplete.
Ensnaring Slam does not trigger some Class Ability mods.
Masterworking then enhancing a weapon will make it appear that a player will get +20 to the base stat, when in reality players can only get +10 to the base stat.
Using three copies of the same resist armor mod provides no difference than using two copies of the same mod.
Some players report that radiant no longer stuns Barrier Champions.
Firesprites may no longer be generated from Grenade kills.
For a full list of emergent issues in Destiny 2, players can review our Known Issues article. Players who observe other issues should report them to our #Help Forum.
Those who Can't Do.... Share

Hippy: Listen. I'm not ashamed, I'm not proud to admit that I probably spend way too much time each week playing games and consuming an obscene amount of Taco Bell. It would certainly be fair to say that fitness isn't exactly at the top of my to-do list. They say those that can't do, teach. But in this case, those that can't do, share... MOTW picks. Maybe this will be the motivation we have been looking for...
Movie of the Week: Working on that fitness!
Sam: Feeding off of Hippy's section, those who can't hit the broad side of a barn with any weapon ever because they are too busy finding regional chests... share montages.
Movie of the Week: Crossfire
Bruno: I was very impressed by the fearless Guardian that was able to solo Nezarec. Since this fearsome Warlock decided to do the job of six Guardians all by himself, I had to put him here as the additional MOTW. I'm still in awe. Congratulations, Xemo!
Extra MOTW: Solo Flawless Root of Nightmares
Rootin' Tootin' and... Dancin'!

Ivan: Looks like this Guardian was lucky enough to get a hat. No one knows how many clears of Spire of the Watcher it took, but let's just all be happy for him.
Art of the Week: Rootin' tootin' cowboy shootin'
Commission for SciurusVulgari of his Titan and Ghost, rootin' tootin' cowboy shootin' their way through Spire of the Watcher.🤠#Destiny2Art #Destiny2AOTW pic.twitter.com/xJIaLWxu8k

— Will Clements ✨ (@willclementsart) April 18, 2023
Bruno: Those of us living in the northern hemisphere are in the middle of spring already, so it seems fitting that we feature some spring-like content here, right? Who said only Hive worms can be cute?
Art of the Week: Nokris, Herald of Allergies and Supplicant to Spring
🌺Nokris of the Lucent Brood🌺#Destiny2 #Destiny2Art #Destiny2AOTW pic.twitter.com/X8LoTFkChD

— sussy account in general (@vedroidd) April 22, 2023
Bonus entry: Dancing
#Destiny2art #Destiny2AOTW

춤추는 신봉자들~!
쓰실분들이 있을지는 모르겠지만, 헤더 사이즈와 프로필 사이즈로 만들어 보았습니다😌 써 준다면 기쁠거예요.
※상업적 사용은 불가합니다!

아래로 프로필 사이즈용 이미지를 동봉합니다. pic.twitter.com/VxdltC0ZUy

— 난갯 (@Dg_nyancat) April 16, 2023
----. ...-- --.
That's it for this week's TWAB, Guardians! Less than a month until the next Season starts. Remember to go get your best friends, vote for the Trials map you want, and finish up your Season Pass! But since we do still have a few weeks left, the team will have a few more TWABs and articles in the near future, so keep your eyes on Destiny2Team and DestinyTheGame for updates.
Stay Crafty,
Sam