This Week At Bungie - 4/20/2023
Apr 20, 2023 - Timon
This week at Bungie, we are taking a short breath from beefy TWABs. But don´t you worry, we have a lot more to come in the next weeks. Personally, I'm celebrating writing my first TWAB ever! So, as we say in northern Germany, "moin moin!" ("Hello" in English.) Let´s get into it.
In case you missed last week's TWAB here are the main topics we talked about:
Specific third-party peripheral usage.
Dresstiny would like to Commend you.
Reminder about Trials Labs.
Bungie Foundation is getting kilt happy.
And here is what we're diving into this week:
Highlights of the midseason patch.
Highlights of our recent Accessibility Options article.
Community Exotic weapon ornament is coming to Destiny.
The next community ornament vote.
Last week of Iron Banner in Season 20.
Weekly #Destiny2MOTW and #Destiny2AOTW picks.
It's unbelievable but the first season of Lightfall is halfway over, therefore we had some cool stuff to share with you in this week's patch notes. So, let´s take a look at some changes that were introduced in Update 7.0.5.0!
Crucible
Removing Clash from Quickplay, and splitting rotators into two nodes: Clash/Zone Control/Rift in one; Mayhem, Scorched, Momentum Control in the other.
Core 6v6 Rotator (Clash/Zone Control/Rift) rebranded as Relentless.
Increasing the Respawn Overshield protection in PvP.
Introducing a Seasonal Ascendant emblem and a stat tracker to display your current Competitive Division.
Crucible and Gambit titles and gilding are being fixed and reset.
Trials of Osiris Commendations will be blocked if you do not get other Trials rewards.
Vanguard Ops
Tuned difficulty in Heist Battlegrounds present in Vanguard and Nightfall playlists.
Defeating Tormentors now provides revive tokens like Champions and Hive Guardians in some activities.
PVE Primary Weapon Balance
Increased the damage of the following weapon types against red- and orange-bar enemies in PvE.

Auto Rifles: 25%
Pulse Rifles, Hand Cannons, and Sidearms: 20%
Scout Rifles: 10%
Other important changes
Added the capability to upgrade Root of Nightmares Adept weapons with enhanced traits.
You can once again collect Exotic Glaive patterns from the Evidence Board.
Adding a Commendation and stat tracker for Best Dressed.
What's New in Accessibility? Colorblind Changes, Full Auto Mayhem, and More
In case you missed it, we shared a blog earlier this week diving into recent changes that we believe players with accessibility accommodations regarding colorblindness will particularly enjoy. From reticle changes to special effects tweaks, here's a TL;DR list of what we went over:
Reticle changes.
Full auto melee changes.
Toggle settings additions.
Subtitle color choice.
A peek at what's new with Commendations if you have any variation of colorblindness.
Read the full update with additional info from the teams responsible for these changes right here.
The First Community-Voted Weapon Ornament is Coming to Destiny!
With the launch of Season 21, we are releasing your Arbalest ornament! Doesn´t the ornament look fire and well-suited for Lightfall! Another big shout out to StellarStateLogic.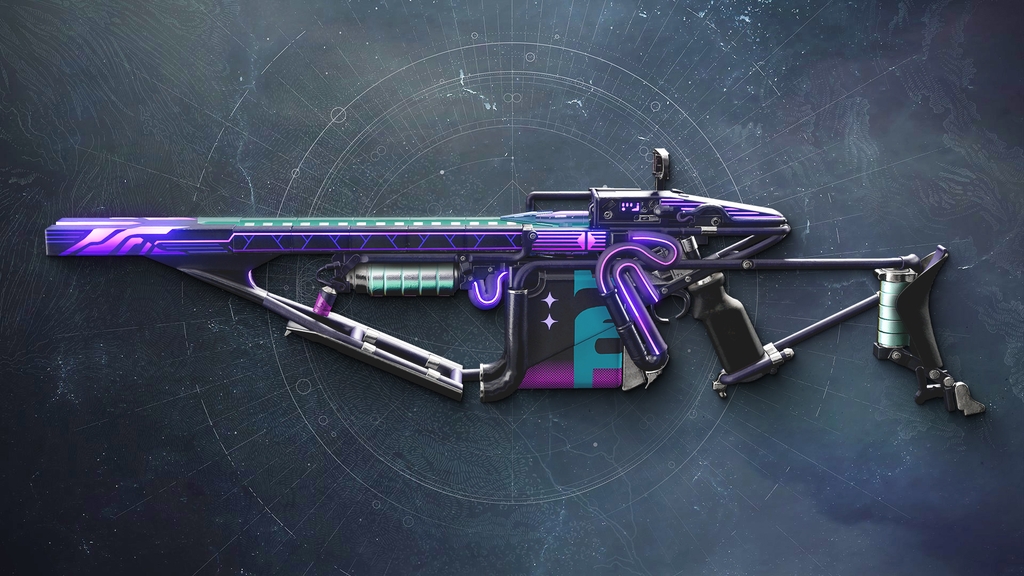 You can acquire the new ornament in the Eververse store.
Next Exotic Weapon Ornament Vote
Fashion in Destiny is a vital part of the game, and some of us can be pretty invested in using the right ornaments to make our Guardians shine. But armor isn't the only thing that's important! That is why we're announcing the next community weapon ornament voting. And we have a selection of awesome weapons you can choose from. The design behind the chosen ornament will be created by an artist from our Destiny community who are amazing when it comes to bringing the game into the real world through art.
We have picked an artist out, so please don't feel the need to start any campaigns on whom we should pick. We also aren't asking them to do this work for free and will be paying them just like when we work with other external concept artists.
So, here are the chosen weapons:
Izanagi´s Burden. Witherhoard. Thunderlord.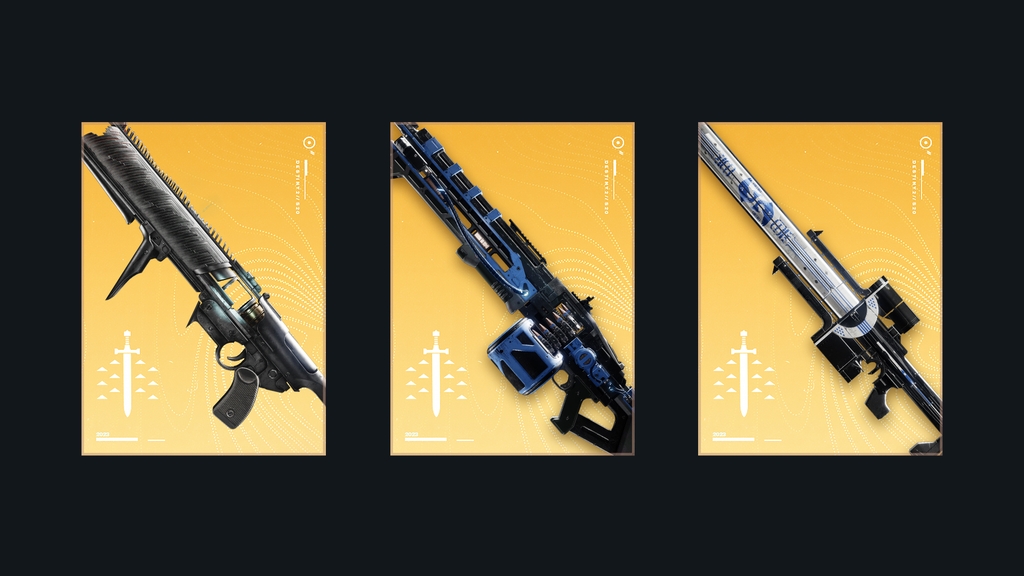 Once one of the above Exotics has been selected, we will work with the chosen community artist to create three different weapon ornament concepts and then we will have another vote so that you can pick your favorite. The winning design will be made into a weapon ornament in the game.
Here is a quick look at the full process:
Starting on April 20, the community votes through email on which Exotic to pick.
The community artist creates three ornament concepts for the winning Exotic weapon.
The community votes on their favorite concept.
The winning weapon ornament goes into production and is released in-game.
We want to make sure we give our artist plenty of time to work, so it will take some time until we reveal them and the concepts.
Once the community has picked the concept and it's ready to go into production, it's going to take a bit of time to go through our content pipeline, so we want to set the expectation up front that you shouldn't expect to see the ornament in Destiny 2 until The Final Shape. We know... that might seem like a long way out, but we're glad you get to be along for the ride on this one and an important part of that process.
We can´t wait for the results! Choose wisely, Guardians.
Last Week of Iron Banner Ahead
For everybody who hasn´t gilded their Iron Banner Seal, next week is you last chance in Season 20! So, get your gear together and tackle that rank reset!
PLAYER SUPPORT REPORT
This one goes to 11.

Known Issues List | Help Forum | Bungie Help Twitter
WEAPON CRAFTING NOTICE
When you select a weapon to reshape, we copy the weapon that is in your inventory, and we place this copy in the reshaping slot. If you make changes to the weapon in your inventory after you have selected the weapon to reshape, these changes will not get automatically updated to the item in the reshape slot. This creates the opportunity to lose those changes once reshaping has completed.
Until we're able to release a fix, players should avoid increasing a weapon's enhancement tier while actively modifying that weapon at the Relic on Mars. If a player increases the tier and commits reshape, the new tier will be lost. To avoid this, players can enhance and re-select the weapon for modification to maintain the enhancement tier.
AUDIO ISSUE WORKAROUND
We're currently investigating an issue where those using 3D audio are experiencing less-than-ideal sounds and speech. Until this issue can be resolved, it's recommended that players disable 3D audio, such as native 3D audio on PS5 or Atmos/Windows Sonic on PC/Xbox.
MISSED 7.0.5.0 RESOLVED ISSUES
With the launch of Update 7.0.5.0, we have resolved the following issues:
Fixed an issue where the Terminal Overload chest could be looted multiple times for rewards and crafted weapon progress.

Crafting progress now comes from the key chest and not the base chest.

When the mods Ashes to Ashes and Hands On are equipped at the same time, players will only receive Super energy from one of the mods when killing an enemy with a grapple melee. When these mods are equipped individually, each will work with the grapple melee.
Grenade Kickstart will no longer activate when using a grapple point.
When the mods Firepower and Heavy Handed are equipped at the same time, only one Orb of Power will spawn when killing an enemy with a grapple melee. When these mods are equipped individually, each will work with the grapple melee.
Reduced Super gains from Ashes to Assets by 50% when getting a grapple melee kill after using a grapple point.
Players no longer need to have the Strand subclass equipped to gain Unraveling Rounds for their Strand weapons from the Allied Unraveling perk.
Heavy weapons will more consistently gain increased ammo capacity from multiple Reserves mods. This does not apply to Rocket Launchers, Grenade Launchers, Heavy Glaives, Leviathan's Breath, and One Thousand Voices, since their maximum ammo capacity is reached by equipping fewer mods.
Fixed an issue where the Fighting Lion Grenade Launcher was incorrectly benefitting from the Void Holster mod.
Fixed an issue where the Harsh Language Grenade Launcher now correctly activates Void artifact perks.
Fall damage is now nonlethal to players. Previously, only collision damage was nonlethal.
For a list of other resolved issues, please view our 7.0.5.0 patch notes.
KNOWN ISSUES
While we continue investigating various known issues, here is a list of the latest issues that were reported to us in our #Help forum:
Players who previously acquired the Brazen Spark ship are blocked from completing the Last Will and Testament quest.
Shaw Han quest dialogue is cut off if a public event is triggered, preventing players from hearing any remaining lines.
Volatile Flow does not activate consistently.
The Cheerful Destruction Triumph does not grant bonus progression for Guardian kills.
The Insight Terminus strike can produce BIRD errors when fighting the boss and capturing plates.
Audio may appear distorted in certain activities. Check the Audio Issue Workaround section above for guidance.
The Guardian Games statue has the incorrect class displayed as winner for the 2022 event.
Some Guardian Games Triumphs are activating earlier than intended. As a result, the Titles tab now flashes as though something is unlocked. These Triumphs will be able to be claimed when Guardian Games launches in two weeks.
The Zone Control playlist doesn't display an Increased Crucible Rank modifier.
Dying in the HyperNet Current strike's boss room can sometimes get a player's Ghost stuck in the floor.
Quitter penalties were erroneously enabled with 7.0.5.0 launch for completing matches. This has since been corrected.
Rewards are delayed upon completing certain raid encounters, with some rewards going to the Postmaster.
Some players report that Radiant no longer stuns Barrier Champions.
Firesprites may no longer be generated from Grenade kills.
For a full list of emergent issues in Destiny 2, players can review our Known Issues article . Players who observe other issues should report them to our #Help forum.
Getting Bounties While Loading!

Ivan: This movie has it all: gorgeous locations, love for Strand, deadly Glaive, compilation of finishers, and a perfect feeling of rhythm. Keep your #Destiny2MOTW and #Destiny2AOTW submissions coming, Guardians and don't forget to add Bungie.net profile links in your entries.
Movie of the Week: Into the Hive
Bruno: Please, be careful when choosing destinations in orbit, don't eat too much spicy ramen, and don't use your phone while flying.
Movie of the Week: Maybe use the Companion app next time?
The Darkness is Among Us!

Hippy: Earlier this year, we dropped details about how the world of Guardians is crashing the Among Us universe and the results have been nothing short of hilarious. All of the art, cosplay, and in-game shots have been a treat, and we couldn't help sharing the Witness entering its impostor era with all of its disciples getting their alien jellybean on.
Art of the Week: The Darkness seems a little suspish.
The Darkness seems a little sus... #Destiny2 #AOTW #Destiny2Art #GuardianCosmiCube #amongusfanart pic.twitter.com/pb0XQG3dSv

— stocktoaster (@DiskWrite) April 13, 2023
Sam: This one specifically might be two Warlocks (because Warlock) but the story of two (or three, or six) Guardians joining together to go flawless, defeat a raid boss, or complete a patrol together is pretty amazing regardless of which class you play. Just remember, you are flawless Guardians.
Art of the Week: (you are) flawless
(you are) flawless. #Destiny2AOTW #Destiny2 #Destiny2Art #DestinyTheGame pic.twitter.com/lJSIcPPq9u

— Frosty ❄️ (@Frosted_Clouds) April 13, 2023
__________________________________________________________________________________________________________________
That's a wrap for my first TWAB! I am super happy that we started another vote on a community Exotic ornament, and not just because Izanagi´s Burden is my favorite weapon. Not that I want to sway you or anything [wink].
Before you head out, we just want to say that we hope you have fun with the last week of Iron Banner and get your rank reset!
Now, we wait for the next TWAB. Until then: haut rein! (Which means "let´s go!" in German.)  
 Timon