This Week at Bungie - 03/02/23
Mar 2, 2023 - Hippy
This week at Bungie, we're stopping by to talk about Lightfall, take a leisurely stroll down memory lane, share a deeper look at the sounds of Lightfall, and offer a look at known issues that players have reported since launch.
It's a busy week as Guardians embark on their own journey into Neomuna. It's been a blast watching Guardians share those epic Strand takedowns (seriously, y'all are putting grapple through its paces and it's glorious, don't stop!) and those shared favorite moments taking on Calus's forces, so far. There's a lot more on the way, but for now, let's focus on launch week.
Before we get started, here's what we're talking about in this week's TWABtastic adventure:
Incoming updates to Strand.
A cinematic welcome to Season of Defiance and a new year of storytelling.
Highlighting the incredible music of Lightfall.
A closer look at The Witness.
We're getting suspicious with Among Us.
Introducing the next raid and sharing a few key dates that you should remember.
Celebrating the month of March with our phenomenal Women @ Bungie club.
Sharing the love from our friends at PlayStation Studios.
Some of our favorite fan art and movies of the week.
In case you missed last week's blog:
We recapped what it means to bring challenge back to Destiny 2.
A preview of the future of the Crucible.
A preview of the Season of Defiance Artifact.
An update on the Legendary campaign.
All caught up? Awesome, let's get into it. And don't worry, we'll keep this one easy on the eyes so you can get back to Roha—uh, we mean, back into the game.
Strand Updates Incoming
As more players complete the Lightfall campaign and get their hands on Strand, we've heard the initial and constructive feedback. As with any new subclass in Destiny 2, we want to make sure Strand feels great in players' hands once they've realized its full power, and that evolution doesn't stop at day one.
To that end, we've decided to release a live update that will unlock the ability to earn the full suite of Strand Fragments for all players later today. While these additional Fragments will be class-specific to unlock and you'll need Strand meditations to acquire them, this should be a great way for everyone to experience more of what Strand has to offer before we head into next week's raid.
Speaking of which, we'll need to ensure Strand is balanced against the rest of our subclasses so everyone has a solid raid experience next week, and we'll be keeping an eye on Strand's performance as more players unlock it fully and wield it in the wild. Stay tuned as we get closer to Root of Nightmares' opening on March 10.
The Story Has Just Begun...
We know there are still plenty of questions left unanswered at the end of Lightfall's Campaign that you're all eagerly awaiting answers to. As the events of Season of Defiance get into full swing this week, know that this is just the beginning of the next year of storytelling that will connect the events of Lightfall and The Final Shape. We can't wait for the community to learn more about The Witness's origins, its objective, and the ways we can thwart it and its disciples throughout Season of the Deep, as well as Seasons 22 and 23 later this year.
Season of Defiance brings with it a powerful new fantasy as Guardians land boots-on-ground now that we've reached a point where the war is here, and on two fronts. Check out what Season of Defiance has to offer:
Once you're done TWABing your heart out, feel free to mosey on over to our Destiny 2: Lightfall page here to learn even more about what's ahead. And then, you know, actually dive in for yourself. We have a feeling y'all are going to have a very intriguing time with Strand.
The Pyramids Are Alive With the Sound of Music...
It doesn't take much to appreciate how much a solid soundtrack can make or break an adventure. The right sounds can completely enrapture you and that's exactly what the music of Lightfall aims to be. Learn how the Bungie Audio team brought the ethereally neon world of Neomuna to life in our behind-the-scenes look in the video below:
Can we just take a second to appreciate the sounds of Lightfall? Whether it's grapple-punching enemies like a total badass or listening to the calming musical stylings of the intro, the audio world of Destiny 2 continues to grow in expansive and beautiful ways. Pay special attention to the various sounds when traversing Neomuma, and you may find that the rabbit hole goes deeper than you know when it comes to auditory exploration.
Oh, and if you're like us and listening to the soundtrack on repeat, you can also scope that out below to dig in even when you're not out in the stars with this playlist here.
Darkness Unveiled, A Match Made in Dramatic Entrances
From the start of Destiny, Guardians have been focused on the Darkness as an enemy. Now, we've learned that it's simply a gateway to something much bigger. In case you missed it, we released another nifty Developer Insights video that dives into the wielder of its power: the Witness.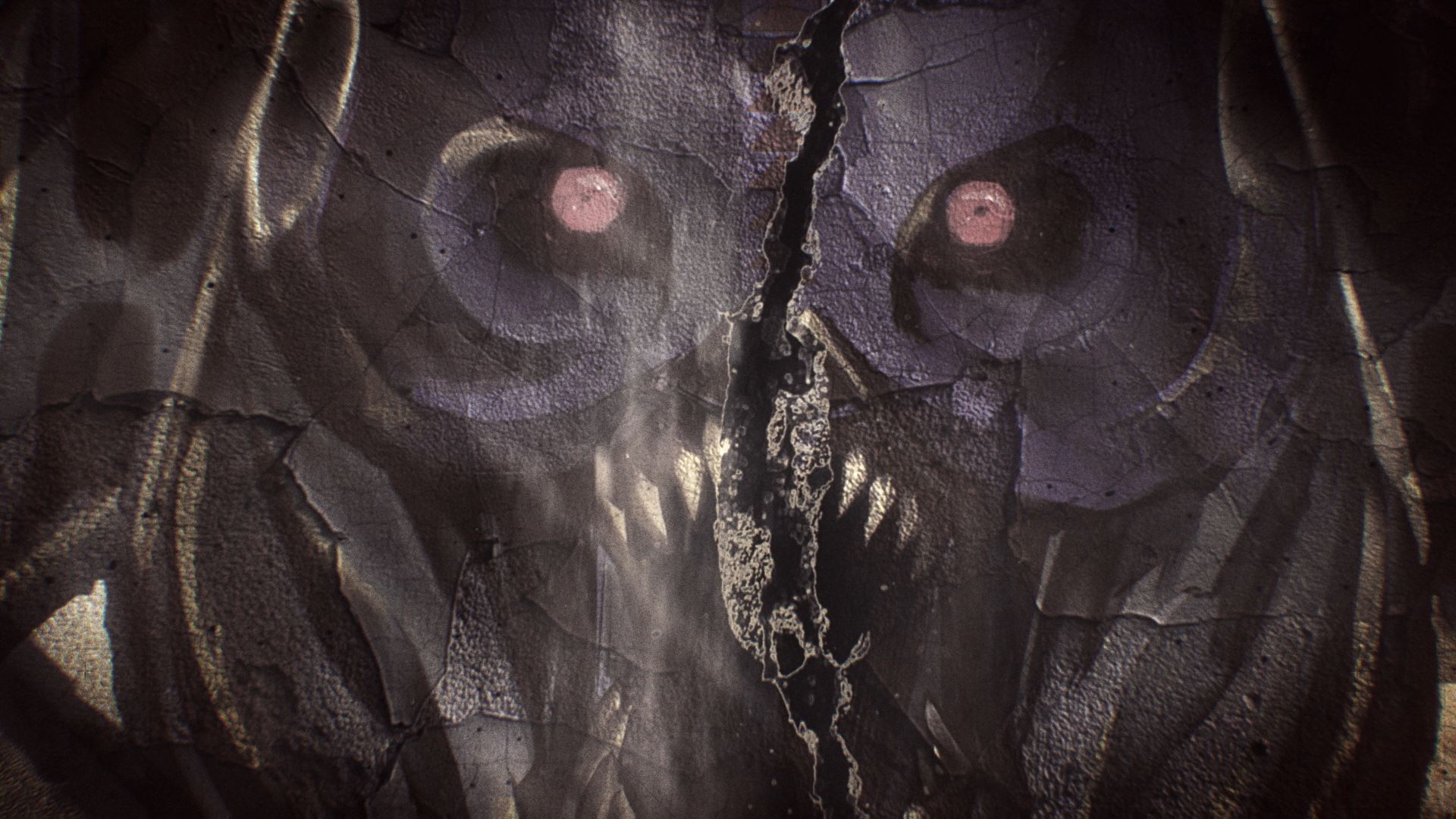 Learn more about the motivations that drive the powers behind the Witness and uncover a glimpse at how greatly this threat's plans have been executed thus far. We're Guardians, and we don't take anything lying down but that doesn't mean knowledge isn't power, so learn more now with Darkness Unveiled:
Among Us, In This Economy? It's More Suspicious Than You Think
Welcoming another crew. Look, our Ghosts do a lot to pull our butts out of the fire—both proverbial and literal—but I'm going to go ahead and go out on a limb and say that even our Ghost might be stumped at how to handle a murderous bean-shaped alien Impostor.
Welcome to the Guardian Cosmicube!
That's right, Bungie is teaming up with Innersloth to get out there and murder some friends in-game in the name of whodunnit. Now before you claim your favored color of choice in Destiny 2, this partnership is a little different. We're busy fighting angry hordes of Shadow Legion and the literal definition of "oh, crap" with the Witness, OK? It's not our fault we, as Guardians, don't have time to be running tasks in Electrical. But we do have a moment to crash into an alternate universe. At least for a little while.
What comes in the Guardian Cosmicube? This delightfully sinister bundle is available for 3500 Beans, Among Us's in-game currency, and is filled with so many cosmetics you won't know which way is the Med Bay and which way is the Airlock. If you need help navigating their Cosmicube system, you can take a peek at this article.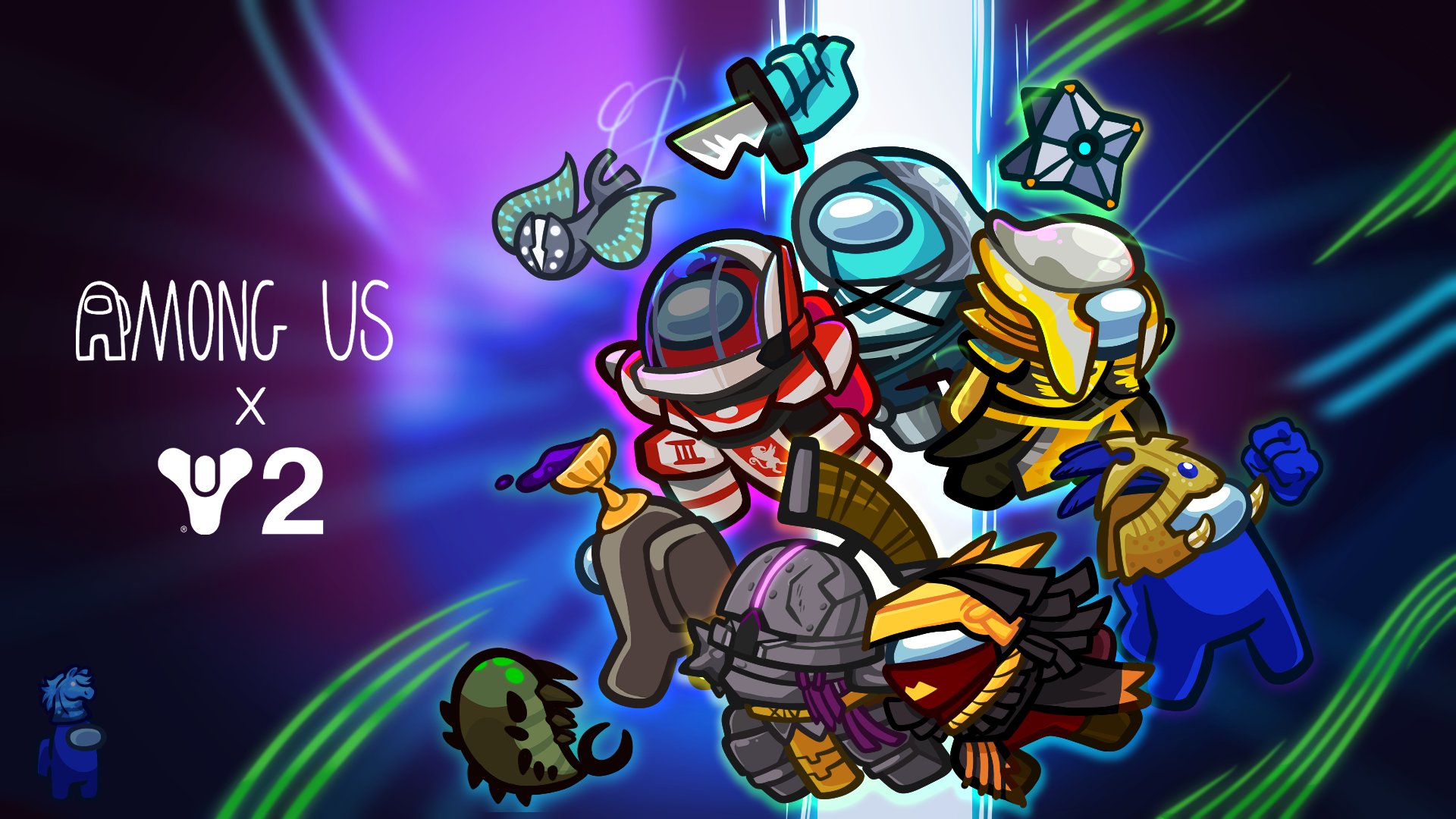 Destiny 2 meets Among Us cosmetics:
Saint-14
Osiris

Who is not an Impostor this Season, thank you very much.

Shaxx
Titan
Hunter
Warlock
Eris Morn
Mara Sov
Pets:
Pouka Pet
Ghost Pet
Hive Worm pet
A special paracausal surprise
Whether you want to be sweet with your sweeties by donning a Saint-14 and Osiris tag-team outfit or just want to yell maniacally with the Shaxx getup, there are quite a few cosmetics to choose from when thinking about how exactly you're going to betray your friends and commit a little crime-y crime. You know, as a treat.
Oh! And if you felt like getting in on the action outside of Among Us, how about a chance to win some emblems, eh? There are two ways to win the AOTW (Or MOTW, if you're feeling fancy with video) emblem:
Dressed to kill.

It's not Destiny if it's not Dresstiny, amirite? With Destiny 2 characters invading Among Us, we wanted to see what it could look like if those roles were reversed. So, make it happen! Show us your best Among Us-inspired looks so we can admire (and be suspicious of) those Guardians. Use the hashtag #GuardianCosmicube to make sure we see it!

Think Among Us, but then make it art.

Hit us with your best art! Make it real, make it fun, make it weird, make it dramatic—make it whatever you want. We just want to see how your creative minds envision the worlds of Among Us and Destiny 2 colliding.
Among Us and Destiny 2's Guardian Cosmicube is available now and will remain available until May 30, 2023. Now get back to those tasks!
Don't Be Late, Save the Date
A new expansion means more dates to keep in mind when looking for even more to do in Neomuna and beyond. We've got a shiny new raid dropping next week, we've got a chance to try out Strand in GMs later this Season, and Guardian Games makes its triumphant return. Pencil these dates down if you fancy any of the below in-game activities: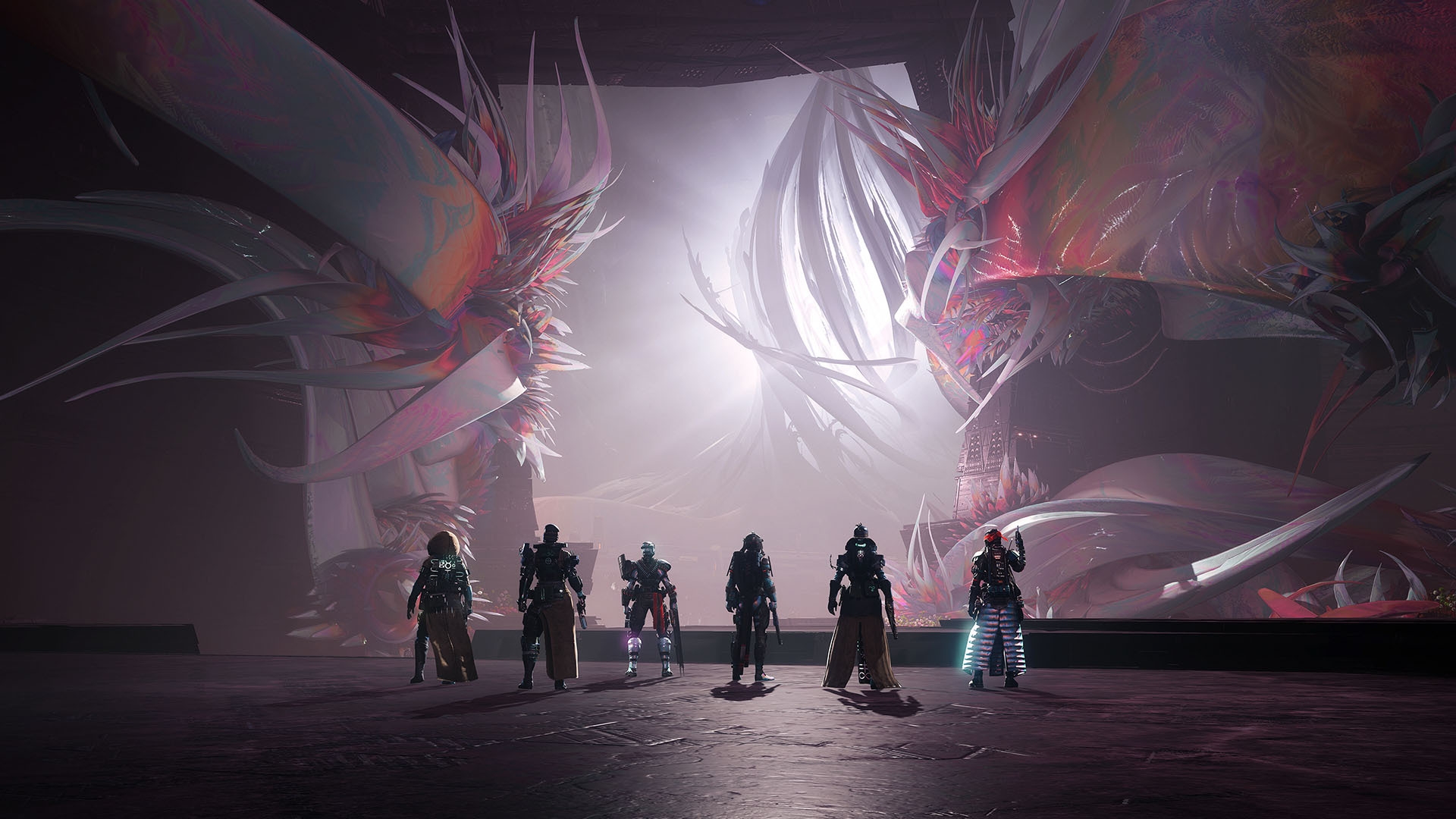 New Root of Nightmares Raid
Nightfalls

Heist Battleground: Mars

– Week

2 on March 7
Hypernet Current - Week 3 on March 14
Arms Dealer – Week 4 on March 21
Glassway – Week 5 on March 28
Lake of Shadows – Week 6 on April 4

Grandmaster Nightfall Strikes
Trials of Osiris

Week 4 on March 24
Week 5 on March 31
Week 7 on April 14
Week 8 on April 21
Week 10 on May 5
Week 11 on May 12
Week 12 on May 19

Iron Banner

Week 3 on March 14
Week 6 on April 4
Week 9 on April 25

Guardian Games

May 02, 2023 – May 23, 2023
Player Support Report
OMG Poukas hiiiiii!!!

A new expansion means our Player Support team is working hard and making sure everything runs smoothly and you can enjoy your time digging into Neomuna when you're not busy saving the world in Season of Defiance. Here's their report on the current known issues for week 1 of Lightfall.
Known Issues List  |  Help Forums  |  Bungie Help Twitter 
CONSOLE UPDATE DOWNLOADS
Players on PlayStation 4 and Xbox Series X|S consoles who are encountering issues logging into Destiny 2 after Update 7.0.0.1 are advised to take a look at the following pinned forum threads for download troubleshooting steps they can take:
Those who continue to encounter issues after all of the above steps have been taken should report to our #Help forum.
HYPERNET CURRENT STRIKE
The Hypernet Current strike is not progressing Step 13 of the Lightfall campaign if players completed the strike for the first time in a fireteam before reaching this quest step. Players in a fireteam need to all be on Step 13 of the Lightfall campaign for the quest to progress normally.
We are currently investigating a fix for players who remain blocked by this issue.
DISORIENTING BLOW DISABLE
Due to an issue, we have temporarily disabled the Arc Hunter's Disorienting Blow melee ability. This ability will be re-enabled in a future update.
JÖTUNN CRUCIBLE DISABLE
Due to an issue, we have temporarily disabled the Jötunn Exotic Fusion Rifle in all Crucible playlists. This weapon will be re-enabled in a future update.
LIGHTFALL XBOX PRE-ORDERS
Xbox players having issues accessing their Lightfall DLC may have had their purchase refunded by their financial institution or platform. Players should check that they have the DLC successfully installed in their platform game library, and double-check the contents included in their specific owned edition of the DLC.
If issues persist, we recommend reaching out to Xbox support to verify their pre-orders were successfully completed.
KNOWN ISSUES
While we continue investigating various known issues, here is a list of the latest issues that were reported to us in our #Help forum:
Opening the Commendations Snapshot screen on consoles may cause the game to crash.
We are investigating an issue preventing players from creating Find Fireteam posts via Bungie.net and the Companion App.

Update 03/02/23: This has been fixed.

Text chat visibility may appear faded or difficult to read on certain light backdrops.
Non-Lightfall quests are incorrectly appearing under the "Lightfall" category of the Quest tab.
Master dungeons are not displaying Artifice Armor as a possible reward preview.
The names of the Season of Defiance Season Pass ornament set and Seasonal armor sets are swapped.
Some players may be unable to join Competitive Crucible matches after their in-game suspension is scheduled to expire. Players affected by this issue can resolve it by playing a match of Competitive Crucible with an alternate character.
Elemental Reloader mods do not apply their reload speed buff to players if they load into a new activity or respawn. Reapplying the mods will return the buff.
The Guardian Ranks Seasonal reset text incorrectly states that ranks 6 through 10 are advance ranks and players at these ranks will reset to rank 5 at the end of the season. Ranks 7 through 11 are advanced ranks and players at these ranks will reset to rank 6 at the end of the season.
The Swarmers Warlock Exotic Leg armor does not create Threadlings when a Tangle is thrown if a player has the Strand Shackle grenade equipped.
The Quicksilver Storm Exotic Auto Rifle and Touch of Malice Exotic Scout Rifle have lost their 40% damage increase against red bar enemies.
Activating Fourth Times the Charm with the first shot in Revision Zero's alternate fire mode results in players losing all alternative fire shots and kicking them from the alternative firing mode.
The "Ascendant Scepter Mods" Triumph from Season of Defiance is counting previous Season 19 mod unlocks for its completion total, allowing some players to complete this Triumph early. Players who did not unlock enough artifact mods during Season 19 are currently blocked from completing this Triumph.
Veteran players starting Lightfall at Guardian Rank 6 will not receive Vanguard Lore Books 1 through 6 and will only receive Vanguard Lore Book 7.
The "Shielded Foes" activity modifier displays a placeholder icon.
The "Mark All As Seen" button in Collections no longer dismisses new item flashes.
The Wendigo Heavy Grenade Launcher is missing part of its impact VFX.
The Season 19 Clan Staff is missing a title and description in English.
The Dimensional Hypotrochoid Heavy Grenade Launcher can roll with a range masterwork, despite not having a range stat.
The Manticore Exotic Submachine Gun cannot be obtained from the Collections.
For a full list of emergent issues in Destiny 2, players can review our Known Issues article. Players who observe other issues should report them to our #Help forum.
Swingin' Into Women's History Month to Offer a Little Light
Join Bungie in celebrating Women's History Month! For the entire month of March, all proceeds from the purchase of the International Women's Day pin on the Bungie Store will go directly to Futures Without Violence to help achieve their mission of creating healthy families and a violence-free tomorrow.
Additionally, for the first time, the Empowered Voices emblem will be available directly through the Bungie Foundation for a $10 donation. All donations received during March will also support Futures Without Violence, so don't be afraid to do a little good in the world in celebration of a brighter future.

Guardians everywhere can donate right here.
A New Home with PlayStation
Lightfall marks the first expansion we here at Bungie have launched as part of our new home at Sony PlayStation, and the pride we've felt seeing the support from other PlayStation teams has us feeling all the warm and fuzzies. To all the studios that made us feel right at home, thank you!
To celebrate, we wanted to share the messages from our PlayStation fam below as a thank you for making us feel so welcome! The future is bright, almost as if our game centered around the Light or something. Curious...
Eyes up, Guardian! Destiny 2: Lightfall is here, and we're more than ready to confront The Witness and whatever Darkness lies ahead! 🌌

Congrats to our friends at @Bungie on launching their latest expansion for @DestinyTheGame! pic.twitter.com/9NGwjdHNE2

— Insomniac Games (@insomniacgames) February 28, 2023
Congratulations to our friends at @Bungie on the launch of Lightfall today! Let us know if you need any grappling hook tips! pic.twitter.com/H9NppqRhzy

— Sucker Punch Productions (@SuckerPunchProd) February 28, 2023
When Destiny calls, we answer.

Congrats to our friends @Bungie on today's Lightfall launch! We're ready to fight alongside you, Guardians. 🫡

🎨 Art by Sr. Concept Artist @KatieScottArt pic.twitter.com/Bzkb7PnEX0

— Bend Studio 🔜 GDC (@BendStudio) February 28, 2023
Congrats, @Bungie, can't wait to play #Destiny2Lightfall! 🎮 pic.twitter.com/URptF3HGCk

— Housemarque (@Housemarque) February 28, 2023
Congratulations to our friends @Bungie on the release of Destiny 2: Lightfall today! pic.twitter.com/HzpCXPkpDS

— Firesprite (@FirespriteGames) February 28, 2023
When you're lost in the darkness...look for the Lightfall 🌟

Congratulations to @Bungie on the launch of @DestinytheGame's Lightfall! https://t.co/l91LZXaTCN

— Naughty Dog (@Naughty_Dog) February 28, 2023
Let's go Guardians, your journey lies ahead!

Congratulations to our friends at @Bungie for the launch of Destiny 2: Lightfall for @DestinyTheGame! pic.twitter.com/7XLH3Cylis

— Santa Monica Studio – God of War Ragnarök (@SonySantaMonica) February 28, 2023
Congratulations to our friends at @Bungie on another fantastic launch! We can't wait to play! https://t.co/vDAAqKnnGk

— Guerrilla (@Guerrilla) February 28, 2023
Eyes up, Dreamers & Guardians alike! 🌟

Congratulations to @Bungie on the launch of Destiny 2 #Lightfall! We're so excited to step foot on Neomuna! #MadeInDreams pic.twitter.com/kGvw1d9qpN

— Media Molecule (@mediamolecule) February 28, 2023
You Can Dance If You Want to, But You Can't Leave Calus Behind

Hippy: Look. I get it. We gotta stop Calus and figure out what sort of shenanigans the Witness is up to, but sometimes it's also important to stop and smell the nostalgic smells of a good ol' fashioned arcade. And Dance, Dance, Revolution it up. That's also a must.
Show us those sweet, sweet dance moves, Guardians!
Movie of the Week: Dance, Dance, Neomuna, Baby
DDR Champs of Neomuna #MOTW @Destiny2Team @Bungie @DestinyTheGamehttps://t.co/sCi4ZG7pSw pic.twitter.com/yJL4q4EYgP

— Fuzzy Wuzzy 🐻 (@Fuzzy__Wuzzy) March 1, 2023
Sam: We all knew that Strand was going to be wild, grappling over enemies and yeeting them in the face or zooming to your death because you totally overshot your grapple…. Okay, that last one might just be a small percentage of us, but Strand is also great for other things, like team-building exercises!
Movie of the Week: Team Building
Strand teambuilding exercises pic.twitter.com/XobRkkNNi8

— Vendetta (@T1Vendetta) February 28, 2023
O' Nimbus! My Nimbus!

Bruno: This community is amazing. Just two days after Lightfall launches, we already have lots of amazing pieces of art to share with you. Please, keep them coming.
Art of the Week: We love Nimbus
☁️ Nimbus to the rescue ☁️#Destiny2art #Lightfall pic.twitter.com/UZmvwTsCZu

— NIX (@nixtetic) February 27, 2023
Ivan: The retro vibes coming from this amazing #Destiny2AOTW make me want to get a VHS player and put on a good old action movie. I'm biased because of a Community Focus - Owlcath article we wrote, but nonetheless, this great work needs to be rewarded.
Art of the Week: For Neomuna
...All those chromed bodies give me some retro sci fi vibes, mostly Hajime Sorayama, so here's stylised for 80's, made of disintegrating liquid-metal Nimbus.

I think I nailed the typography 🥹#Destiny2 #Destiny2Art #Destiny2AOTW #cloudstrider #nimbus #neomuna pic.twitter.com/visJEbBdpn

— Owlcat Gondor calls for Rohan (@Kathi_Langley) February 24, 2023
Bonus Art of the Week: Lightfall
LIGHTFALL

— (...) because only in the END, are we FREE.#Destiny2 #Destiny2Lightfall #AOTW pic.twitter.com/Bd6MPqJyxU

— Gabriel Flauzino | FLZ 💚💙💛 (@Flauzino_FLZ) February 28, 2023
And that's a wrap on the first TWAB post-Lightfall. So. How ya feeling? Enjoying the journey so far? Experimenting with Strand in any interesting ways? Don't forget that the Community team has a new Twitter account over at @Destiny2Team where you can drop the juiciest of juicy feedback. Or just show us all the ways you've been taken out by a Cabal drop pod. Sorry, but that's just hilarious.
Anyway, we've talked your ear off enough. Go out there and have some fun! And remember: drink your water, be sure to take in that self-care, and always strive to lead with your kindest foot forward. Until next time, friends.
"I should go,"
<3 Hippy