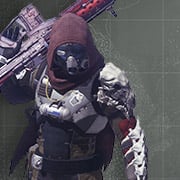 7646913
My friends call me Deadpool or 'Pool' for short. I guess you could call me a Destiny fan. If I haven't met you already then I look forward to the gaming history we'll create together. If you're already one of my friends, then why you stalking me bro?
Moments of Triumph
Track your progress in Destiny 2
Ranked PvP
Glory Rank
"Only those who forge their light in the fires of the Crucible can obtain true Glory. The opportunity is yours Guardian, take it." -Lord Shaxx

A progression rank that goes up when you win and down when you lose. Performance is how you move up here.

Complete 3 Competitive matches each week to earn bonus Rank Points or prevent decay.
Points to next rank:
78 850
Valor Rank
"A Guardian's best tool in combat is their Valor. Your light must be sharp if it is to cut through our enemies." —Lord Shaxx

A progression rank that goes up as you complete matches. Winning helps you move up faster, and there are no loss penalties.
Points to next rank:
144 300
About
Years on Bungie.net
Joined on Sep 29, 2014