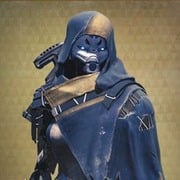 4563207
I journey through life to understand the meaning the death, and in death I hope to find life. Not the spiritual life, ordained by ministers and clergymen, but life as it was meant to be: Free from understanding and yet brimming with the wisdom of all.
About
Years on Bungie.net
Joined on Jun 12, 2014
Linked Accounts
Clan
Ordo Virtus [OrVi]
To ward against the Darkness though the embodiment of the virtuous Light
Ranked PvP
Valor Rank
"A Guardian's best tool in combat is their Valor. Your light must be sharp if it is to cut through our enemies." —Lord Shaxx

A progression rank that goes up as you complete matches. Winning helps you move up faster, and there are no loss penalties.
Points to next rank:
0 10
Glory Rank
"Only those who forge their light in the fires of the Crucible can obtain true Glory. The opportunity is yours Guardian, take it." —Lord Shaxx

A progression rank that goes up when you win and down when you lose. Performance is how you move up here.

Complete 3 Survival matches each week to earn bonus Rank Points or prevent decay.
Points to next rank:
0 40