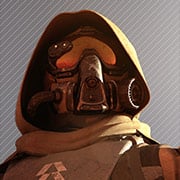 4034133
"All the people who matter say we're on the precipice of a new Golden Age. I'm still trying to figure out what that means. But I can tell you this: the last time humanity had a Golden Age, we owned this system. Every inch of it."
About
Years on Bungie.net
Joined on Oct 06, 2013
Linked Accounts
Tharus (ID: 76561198049113681)
Steam
Ranked PvP
Valor Rank
"A Guardian's best tool in combat is their Valor. Your light must be sharp if it is to cut through our enemies." —Lord Shaxx

A progression rank that goes up as you complete matches. Winning helps you move up faster, and there are no loss penalties.
Points to next rank:
0 10
Glory Rank
"Only those who forge their light in the fires of the Crucible can obtain true Glory. The opportunity is yours Guardian, take it." —Lord Shaxx

A progression rank that goes up when you win and down when you lose. Performance is how you move up here.

Complete 3 Survival matches each week to earn bonus Rank Points or prevent decay.
Points to next rank:
0 40