This Week At Bungie – 3/9/2023
Mar 9, 2023 - Sam
This week at Bungie, it's almost raid day!
Happy TWABsday, Guardians! This week at Bungie we have World First race info to cover, a preview of Season of the Deep rewards, an update on Iron Banner and Trials of Osiris, and a few other highlights.
We're only nine days into the Season and already seeing really wild builds, some of the funniest Strand clips, a whole bunch of Commendations being handed out, and Guardians ranking up. And keep sharing your screenshots and videos on socials! We'll be looking for them.
But first, here is the TL;DR from last week.
We shared some trailers and highlights.

Season 20 Trailer.
Lightfall Dev Insight Music Highlight.

New Fragments unlocked for Strand.
We introduced Root of Nightmares. (Coming tomorrow.)
Among Us x Destiny.
Celebrating Women's History Month.
Sharing Some Love from Our Friends at PlayStation.
This week's TWAB:
World First Race: Raid Details.
A New Quest and Rewards Coming in Season of the Deep.
Iron Banner and TrialsDate Update.
Prime Gaming Update.
New Player Guide.
Known Issues from Player Support.
Art of the Week and Movie of the Week.
RoN is coming
Tomorrow, March 10 at 9 AM PST, many of you will be entering the Root of Nightmares raid to compete in the World First Race.
Before we get into the rules, we wanted to let you know that Bungie is teaming up with Twitch Rivals for the Destiny 2: Lightfall World First Race! Twitch Drops will be enabled, granting viewers an exclusive emblem if they watch the Twitch Rivals stream or a participating partner or affiliate for at least two hours between 8:30 AM and 12:30 PM PST. You can check out the full list of streamers here.

Dim Italics
We'll also have a second Twitch Drop for watching anyone stream Destiny 2 for two hours during the first 48 hours. Check out our Twitch Drops Guide for full instructions on getting your Twitch account linked up.

Particle Acceleration
Alright, back to the race. Let's go over the ground rules.
Rules:

The raid will launch with Contest Mode enabled for 48 hours, starting at 9 AM PST (1700 UTC) on March 10 and ending at 10 AM PST on March 12 (1700 UTC).
You will need to be at 1780 Power to be at the cap for all of the encounters.

Contest Mode: Contest Mode will cap all players at 20 Power below each encounter of the raid for the full 48 hours of the race.
Artifact Power is enabled, but only provides benefit to players up to the cap of 1780.

Read the Player Support Report below for the list of items that will be disabled in the raid for the duration of Contest Mode.
The first fireteam to complete the raid, loot the final chest, and return to orbit will be crowned the winner of the World First race once the team reviews their clear.

Reminder, validating the winners will take some time. We will send our confirmation out on Twitter @DestinyTheGame as soon we know.
To celebrate, all six members of the winning fireteam will receive World First title belts.

To give our servers some space to breathe, there will be no bounty or weapon crafting progress for combatant kills below boss tier within the raid while Contest Mode is enabled.
You can read the full official rules here.
Ready to see the rewards, Guardians?
Here they are!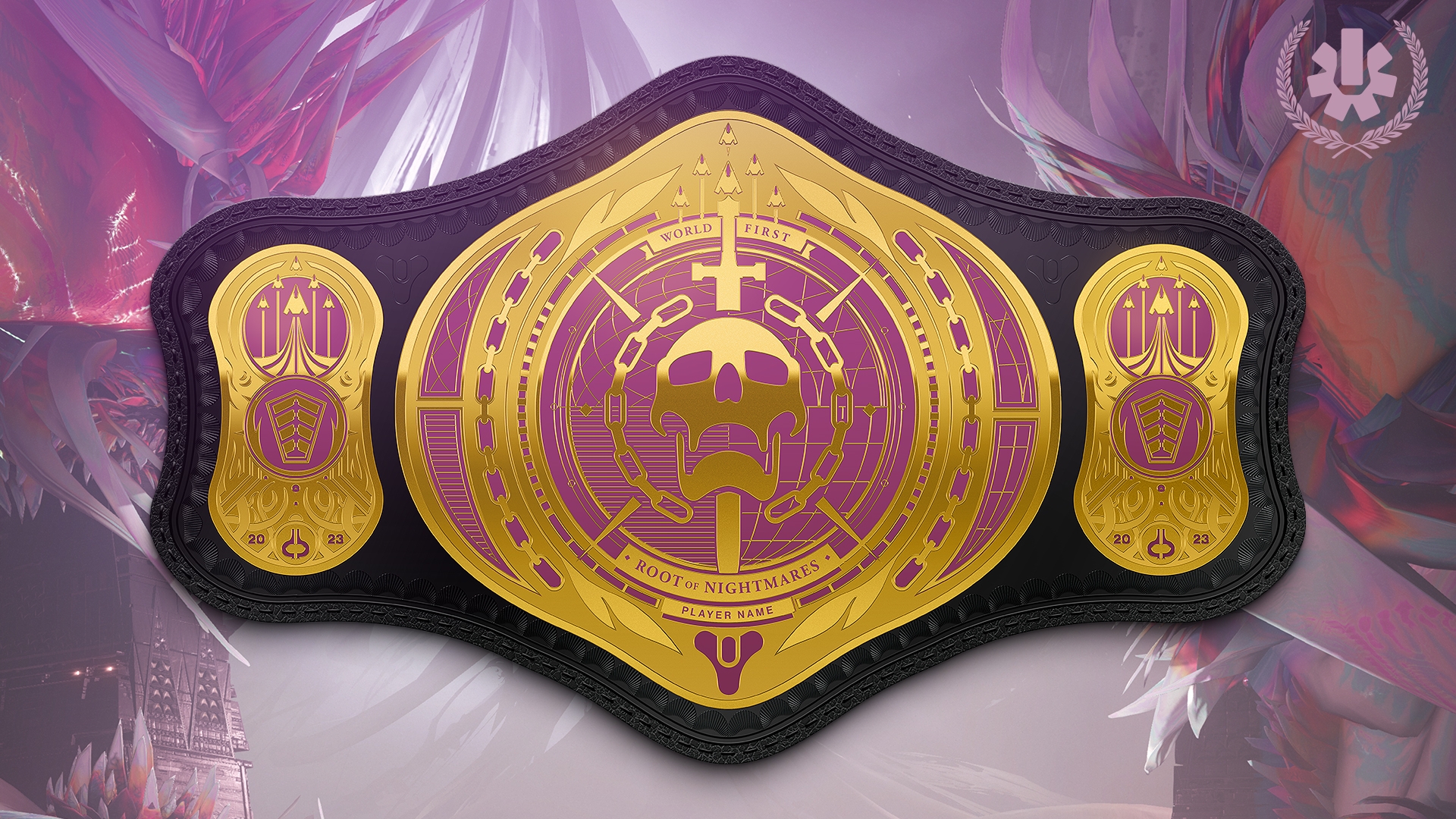 Players who complete the raid before March 21 will have access to purchase the exclusive Root of Nightmares raid jacket from the Bungie Store. The corresponding raid pin and Dream Warrior title pin will be available throughout Season of Defiance. As with all of our previous raid-related Bungie Rewards, this year's jacket represents a longstanding tradition allowing players to celebrate their incredible in-game accomplishments outside of the game. The team is super excited about how this one turned out, and we hope you'll agree when you see it in person!
Learn more: http://bungiestore.com/rewards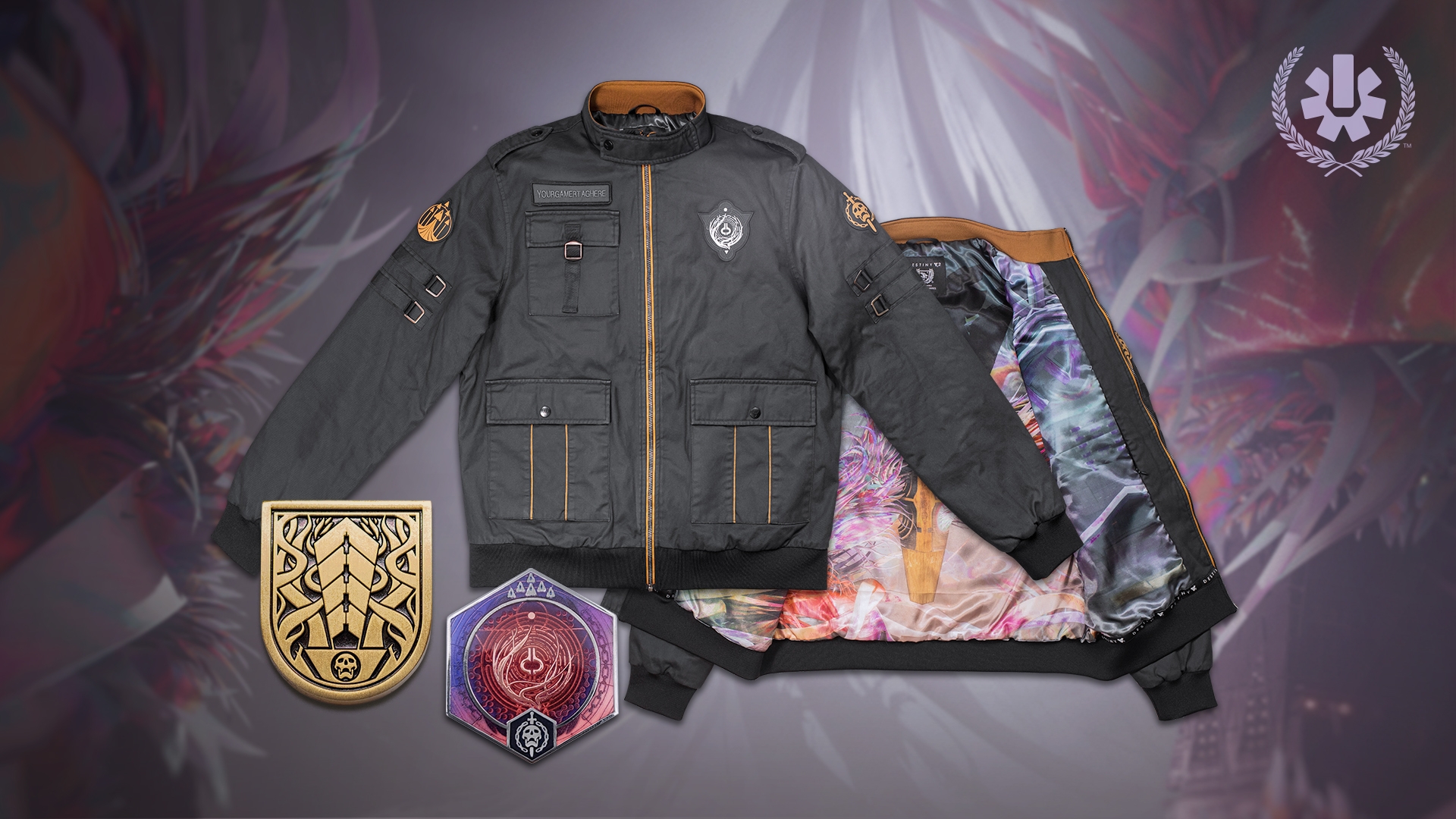 New Revelations and Rewards to Come
As we mentioned in last week's TWAB, a new year of storytelling kicked off with Lightfall and will continue through our Seasons between now and The Final Shape. While we're just a week into Season of Defiance and we don't always share future narrative details this far in advance, we feel it's important to give everyone a preview of a particular quest we're bringing to Neomuna in Season of the Deep, as well as the rewards it will provide.
Throughout this quest, players will explore the city to learn about the nature of the Veil through Osiris's research and newly uncovered Ishtar Collective data. This brief pursuit will be available to all Lightfall owners and will take place separately from the events of Season of the Deep. As a reward for completing the final step, players will gain access to three new Strand Aspects (one per class) to add even more depth and creativity to their builds– and we're excited to reveal their names today:
Titan: Flechette Storm
Hunter: Threaded Specter
Warlock: The Wanderer
Speculate away! We'll have more to share on these as we get closer to Season of the Deep. Note that these new Aspects are planned to be earned by completing this upcoming quest, rather than requiring additional Strand Meditations to unlock. The quest will also remain available in Neomuna in perpetuity for all Lightfall owners, so you won't miss out on the chance to pick it up after Year 6 comes to a close.
As an additional reward, Lightfall owners will also get their hands on a new Legendary weapon upon completing this quest. Here's a close-up look at some concept art for now...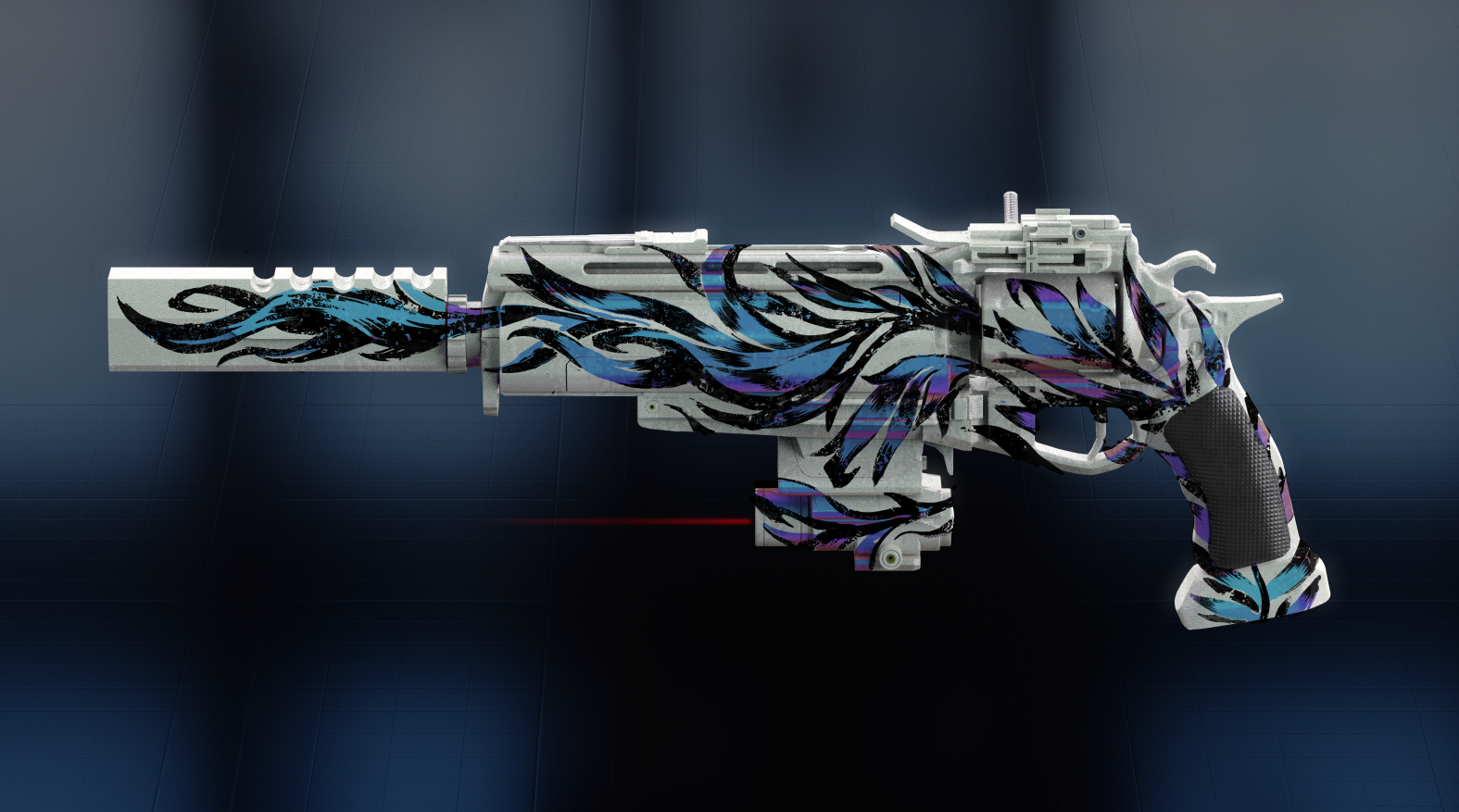 Iron Banner Date Change
Hey Guardians! This is the spot where we were going to do a big writeup about Iron Banner next week and get you all excited for the first one of the year. That writeup is still coming in a future TWAB, but for now, we have an update to share that we think will result in a better experience for everyone.
You know that annoying bug we have had since the launch of Lightfall, where after playing enough Crucible (or strikes, or Gambit, or anything with a Commendations screen), all the other Guardians, and sometimes you, can disappear? Well, the fix is scheduled to go live on March 16—two days after the start of Iron Banner. And we don't want to have our premiere Iron Banner start off with two days of invisible Guardians—or everyone playing Iron Banner restarting Destiny 2 every hour. So, we're making the tough decision to delay Iron Banner a week. That means a couple things:
1) Good news for Trials fans! We will be moving Trials of Osiris up to next weekend instead, since the issue should be fixed before Friday morning. More info in next week's TWAB, of course, where you can expect a double dose of Crucible event goodness.
2) There will only a be a one-week break between the first Iron Banner week (ends on 3/28) and the second Iron Banner week (starts on 4/4).
So to recap:
Trial of Osiris will now start on March 17 (previously March 24)
Iron Banner will now start on March 21 (previously March 14)
Stay tuned for more news about Trials of Osiris and Iron Banner in next week's TWAB, and keep those eyes peeled for the Crucible blog post later this Season!
Prime Gaming Rewards Update
Some of you may have noticed, but our Prime Gaming rewards were updated and we are super stoked to share them with you.
Oh, wait a second, this might be your first time seeing Prime Gaming, so what is it? Well, it's a neat program with Amazon Prime that lets Guardians unlock a few Exotics and Legendaries when you are an Amazon Prime member! All you need to do is connect your Prime Gaming account to your Bungie.net account and bam! You have Prime Gaming.
Here's what we have for you this round!
Barebones SL-19 (Sparrow)
Andromeda Gleaming (Ship)
Defiant Projection (Projection)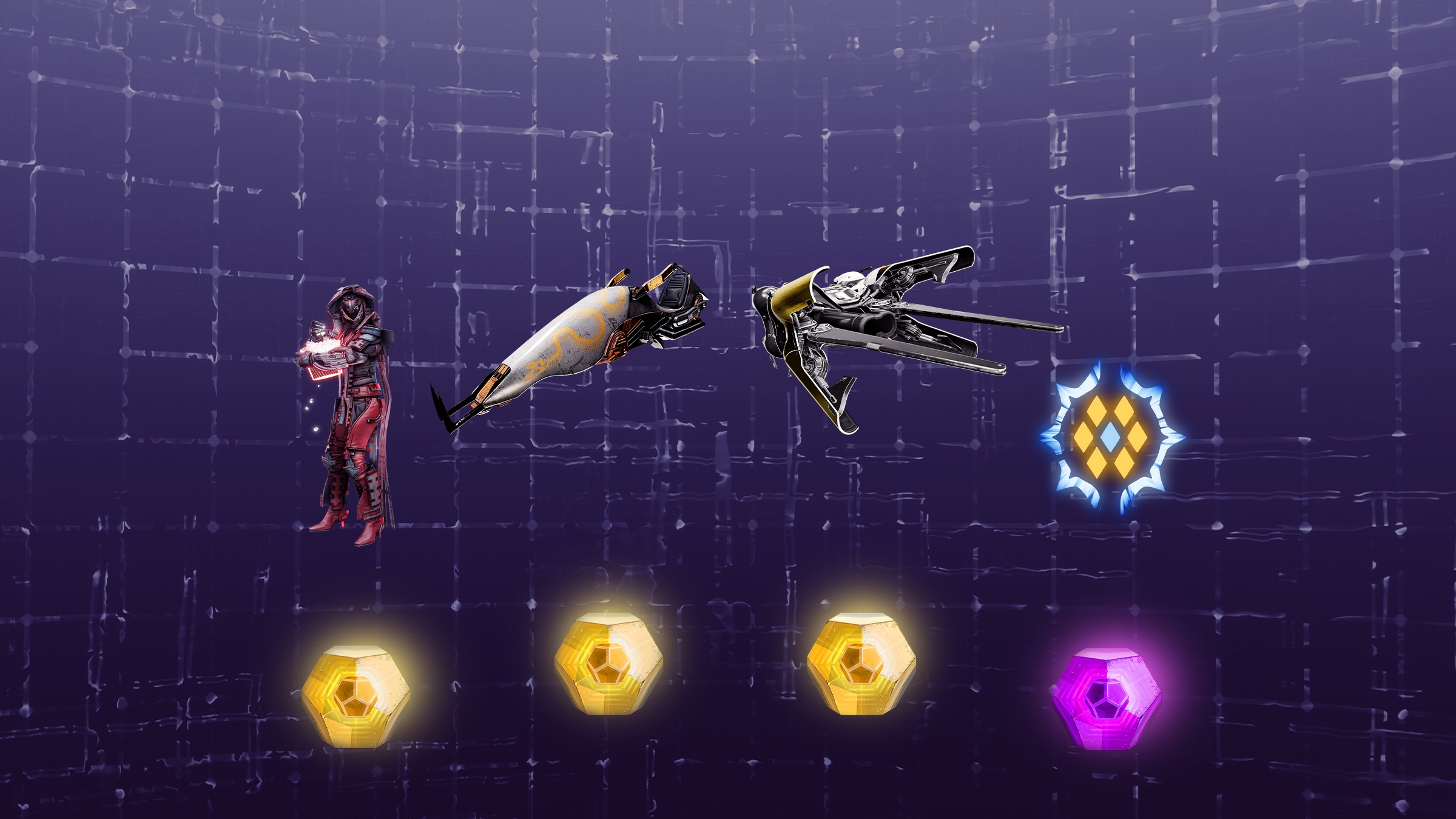 Still not sure how to get set up? Check out this article here for more information.
New Player Guide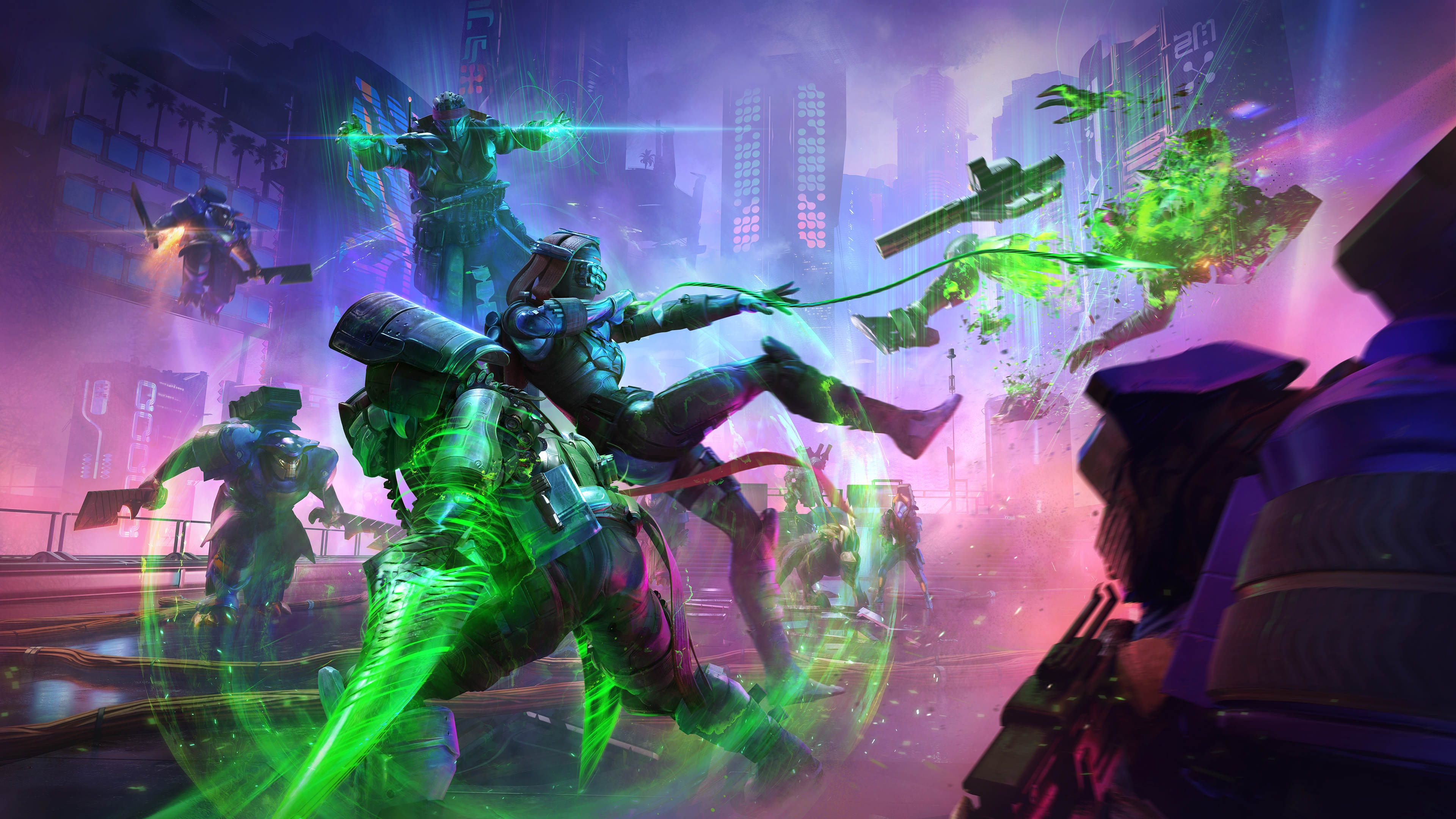 Speaking of being new around here, last week we released an informational guide to help our new and returning players out! Whether you are a returning player, brand new, or even one of our veterans, there's a ton of information, a lot of really cool insight into the game, and it's one of those things that you can reference over and over again whenever you just can't remember who that NPC is or where to go on Bungie.net to find a Cross-Save Guide for your friend. Okay, okay, we could go all day about this but that would kind of defeat the purpose. You can read it for yourself here!
PLAYER SUPPORT REPORT
Darlin', darlin', Strand by me.

ITEMS DISABLED FOR CONTEST MODE AND WORLD FIRST
Below is the list of gear, items, and weapons that will be disabled during the Root of Nightmares World First race and Contest Mode. Traits and functionality on the following items will be nullified within the raid, with additional negative impacts to Power levels if equipped.
Weapons
Grand Overture Exotic Machine Gun
Fighting Lion Exotic Grenade Launcher
Winterbite Exotic Glaive
Jötunn Exotic Fusion Rifle
Hierarchy of Needs Exotic Bow
Armor and Mods
Citan's Ramparts Titan Exotic Gauntlets
Thread of Ascent Strand Fragment (will also be disabled across the entire game)
Empowered Finish Armor Mod
Follow @BungieHelp on Twitter to check for any updates to the above list before raid day!
Character Boost vs. Campaign Boost
With the release of Lightfall we introduced two separate boosts: the Lightfall Character Boost and the Lightfall Campaign Skip Boost. In an effort to help clear up some confusion we've been seeing, we wanted to take a moment to share with the community more about these boosts.
Players will see one of two types of boosts on their character screen depending on their progress:
Lightfall Character Boost
Appears when you hit soft cap (1750 without Artifact Power) with one character but have not completed Lightfall
This boost provides the selected character with a set of high Power level gear
This boost does not skip the campaign
Lightfall Campaign Skip Boost
Appears when you complete Lightfall
Skips the Lightfall campaign for your selected character and unlocks Strand
This only includes a set of high Power level gear if your main character has hit the Soft Cap
Destiny 2 Ritual Reset - Daylight Saving Time
Beginning on March 12, 2023, in the United States, Destiny 2's daily and weekly reset time will update to 10 AM PDT (1700 UTC or UTC -7). For more information on ritual resets, please see our Ritual Reset Guide.
Top Known Issues
While we continue investigating various known issues, here is a list of the latest issues that were reported to us in our #Help forum:
The radiant status effect does not buff Strand weapons.
Volatile rounds from Gyrfalcon's Hauberk do not give anti-barrier to Void weapons.
Mindspun Invocation suspend bursts not stunning Unstoppable Champions.
Veteran players do not receive the correct amount of lore books when they rank up for the first time.
Countdown and its variants are not added to the weekly Crucible challenge.
Reservoir Burst explosion with Subsistence can sometimes fail to activate on kill.
Adept Trials Hand Cannon is getting one round less in the magazine than the non-Adept version.
The grav-lift on Neomuna is tied to framerate, causing players with higher framerates to die upon landing.
The "Mark All As Seen" button in Collections is no longer functioning.
Dimensional Hypotrochoid Grenade Launcher can have a range Masterwork.
Non-Lightfall quests showing up under "Lightfall" quest category.
Hunters that die and have Strand reapplied will lose their first Strand Aspect.
Hunter gauntlets Thunderhead Grips is missing as an ornament for armor synthesis.
Certain Heavy weapon archetypes are not benefitting from equipping a third reserve mod. Players are no longer able to equip the Unbroken title.
Restoration reverts to a lower timer when reapplying the original source of the buff.
The UI behavior of the Commendation screen is causing players to unintentionally skip the end of the Season's first mission cinematic.
Weapons can mark targets through Titan barricades.
Grand Overture catalyst grants disorienting effect to explosive/timed payload.
Thread of Generation stops functioning on Hunters for grenades that aren't Grapple after using their Super.
Unpowered melee can produce fast melee combos in quick succession.
Players experience a black screen when previewing armor bundles on PS5.
Equipping a large amount of decaying armor charge mods starts to deactivate tier 4 and 5 artifact mods from the player.
Some players on Steam are unable to progress past the class icon loading spinner on launch. Please send us your DxDiag on our Help forum.
Commendations are greyed out as already given in some activities.
For a full list of emergent issues in Destiny 2, players can review our Known Issues article. Players who observe other issues should report them to our #Help forum.
A Snowman and Ana transmat into the tower... wait a second

Bruno: We all knew you would do wonders with Strand, grapple, Eager Edge, and all that new stuff. But we also knew a certain new Hunter move would give us amazing one-on-one moments. Like this one.
Movie of the Week: The Diving Snowman
HOLY SHIT LMAOOO pic.twitter.com/eV5AZ3CC9q

— IFrostBolt (@IFrostBolt) March 3, 2023
Ivan: Is it #Destiny2MOTW or #Destiny2AOTW? I'm confused too; therefore we'll give out both emblems! It wasn't my intent to link two different Community Focus articles in this TWAB section two weeks in a row, but we had an interview with Caseyroo too!
Movie of the Week: Ana's Despair
As promised, here's a timelapse (more than a timelapse, I suppose) of my recent work, "Ana's Despair".

I am so ready for Lightfall.#destiny2art #aotw #motw #Destiny2 https://t.co/DItwh3IVg0 pic.twitter.com/n2XSaF7NLO

— Caseyroo (@CaseyRoo_) February 28, 2023
Bonus Movie of the Week: Beat this. If you can.
Solo Headlong: Time Trial - 0:53 🙂 pic.twitter.com/fvdjrkbuYJ

— Hynra (Can Fly) (@hynracanfly) March 6, 2023
Strand Fried Rice

Hippy: Don't lie, you know you totally would.
Art of the Week: Cat's Cradle, Strand Edition
lunchtime comic I couldn't be bothered to draw proper hands for 🤣 my first thought from the strand trailer on seeing that scene was "cats cradle?!"#destiny2art pic.twitter.com/cA2Bo5jC34

— Vanade (@veetwentythree) February 7, 2023
Sam: It's Nimbus. And fried rice. :)
Art of the Week: Nimbus & Fried Rice
I believe in thembo rights!!!!!!!!!!!!!!#Destiny2Art #Destiny2AOTW pic.twitter.com/pFq2I4DRQY

— screebyy (@screebyy) March 4, 2023
Bonus Art of the Week: Clan Meeting atop a Skyscraper

Commission Piece for Safety Team clan.#Destiny2 #Destiny2Art #Destiny2AOTW pic.twitter.com/mQqVurtw3x
— Ohlac (@Ohlac3D) February 23, 2023
And one more for good luck: Arcade Guardians
THRILLADROME 🎟️#Destiny2 #Destiny2Art #Destiny2AOTW pic.twitter.com/JWyFV0RXjV

— Blep (@StaceyBlep) March 6, 2023
Alright Guardians, it looks like that about covers it all for now. Tomorrow, many will step into a new raid and face whatever may be ahead of them, side by side with their fireteam. Remember to take breaks, stretch often, please drink water, and eat something that won't make your keyboard, mouse, or controller sticky. We'll be watching from the sidelines as we do, and we cannot wait to see you all on the other side.
Stay Crafty,
Sam