Colorblind Settings Revamp and More Accessibility Changes
Apr 19, 2023 - Destiny 2 Dev Team
Accessibility in games is a necessary initiative, but overall it's still a relatively new conversation in tech . More and more studios are working toward a common goal: making games that people can enjoy. That includes all people with all sorts of accommodation needs. While the work toward a more accessible game takes time, patience, and a keen understanding of different player types, the important thing is that the work continues. Guided by one of our internal initiatives, Accessibility @ Bungie, the Destiny 2 team has been hard at work developing new features designed to keep accessibility at the forefront for all Guardians.
From a revamp of how colorblind players can experience the world to going ham with fists of fury, here are just a few of the new features that we've been hard at work on. Let's start with our revamped settings and how you can customize your own experience.
Settings Glow Up
Reticle Changes
In Season of the Deep, we are adding an "Enemy Targeted Reticle Color" setting that is designed to complement the current "Reticle Color" setting by allowing players to select the hue of their hip-fire reticle that they see when aiming at an enemy. This change will be particularly helpful for those players with color blindness.
This new color setting also applies to the headshot dot and hit indicator UI elements, peek at the updated menu settings below: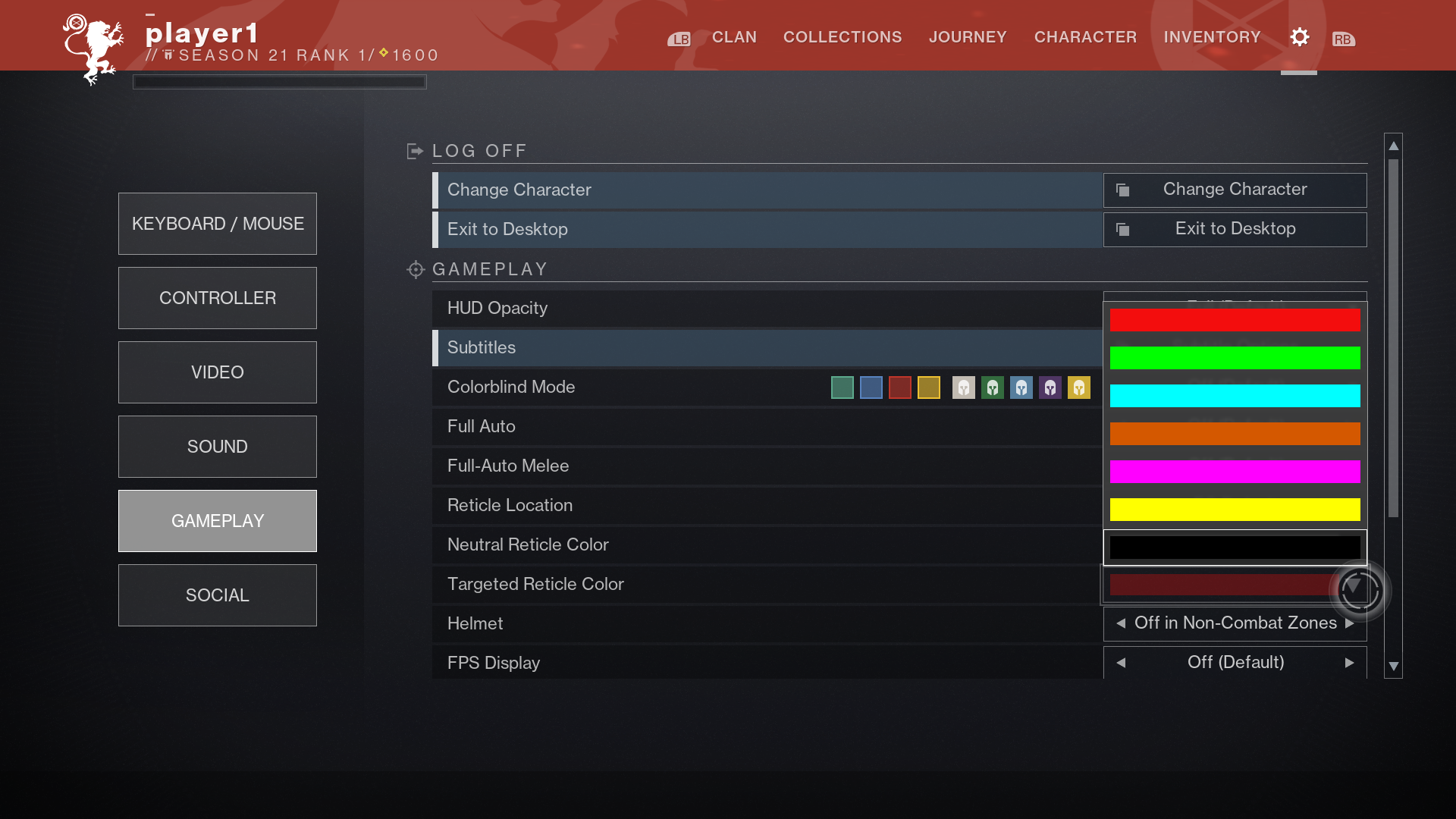 When this new Enemy Targeted Reticle Color setting goes live, most players won't notice a difference as the default value is the same red color that they are used to. Because players now have a much wider range of colors to apply to the targeted reticle color, we have removed the color applied by changing colorblind settings. People who use the Deuteranopia and Protanopia colorblind presets will likely want to update this new setting to the new orange color. We hope the increase in options alleviates the one-time setting change for these players.
In addition to adding the new Enemy Targeted Reticle Color option, we have unified reticle indicator functionality across PC and Consoles. We're excited to hear what you all think about this change next Season.
Full Auto Settings
In Season 19, we introduced a "Full Auto" setting, as described in the Season 19 Weapons TWAB. This is now called "Full Auto Firing", see below for why.
This setting allows almost all weapons to continue firing as long as the trigger or fire button is held. This is likely familiar to most players but is included here for completeness or if you missed it when it shipped.
Full Auto Melee Settings
Next Season we're adding a Full Auto Melee setting. This upcoming change allows players to have full auto mode for melee weapons (including Swords and Glaives), powered melee, unpowered melee attacks, and melee attacks while in a roaming Super. This setting will repeat the melee attack whenever it's available as long as the melee or fire button is held (depending on the type of melee attack).
Confirm and CancelToggle Settings
We're also adding a setting for players to swap which buttons are used for Confirm & Cancel within the Destiny UI when using a controller for Season of the Deep.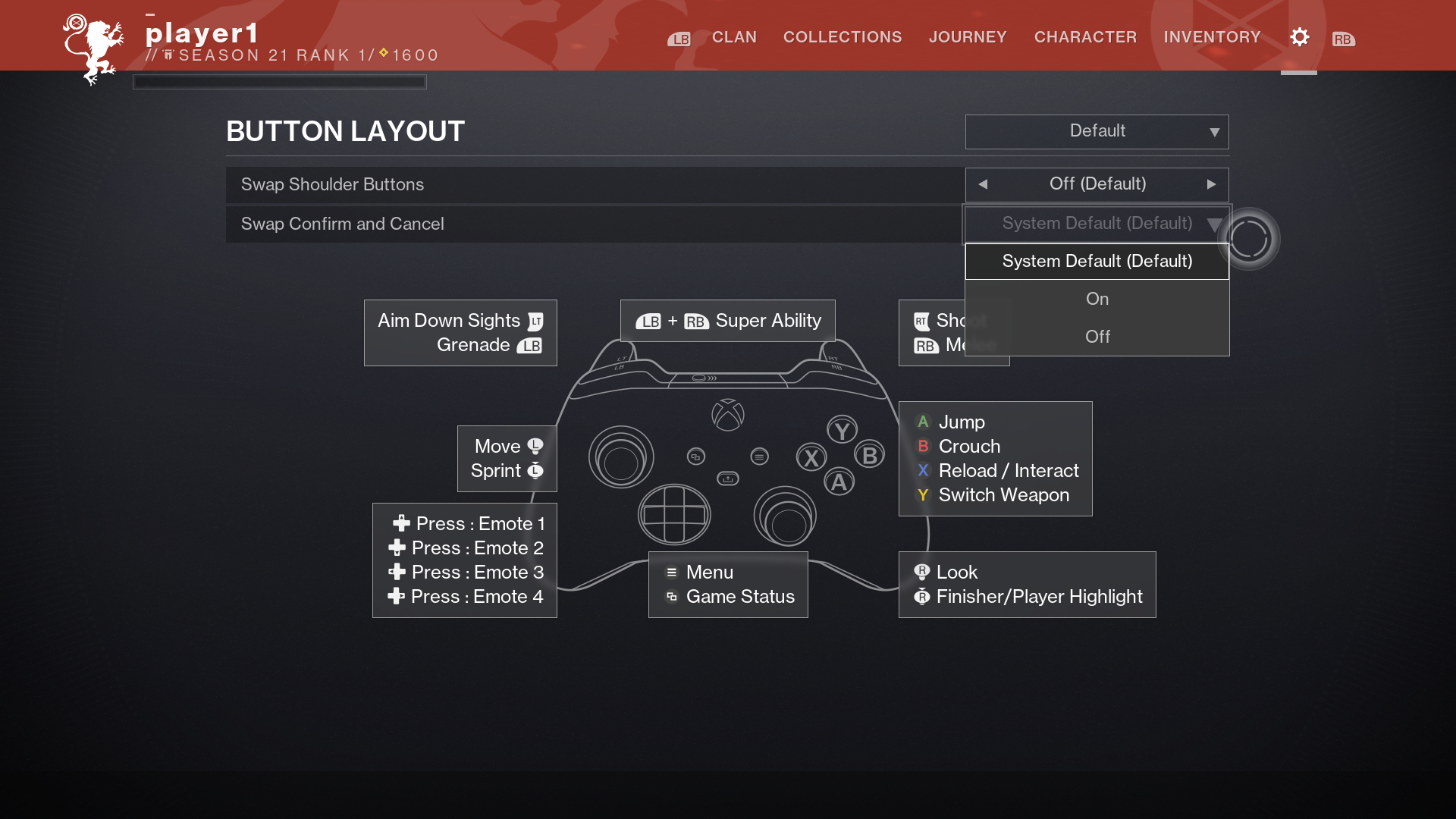 A New Subtitle Color Option Enters Chat
Another part of hearing accommodation changes that we've been working on is something as simple as text. What does it look like? What color is it, what size is it? In the next Season, players will be able to further customize their HUD experience with the ability to tweak the below components: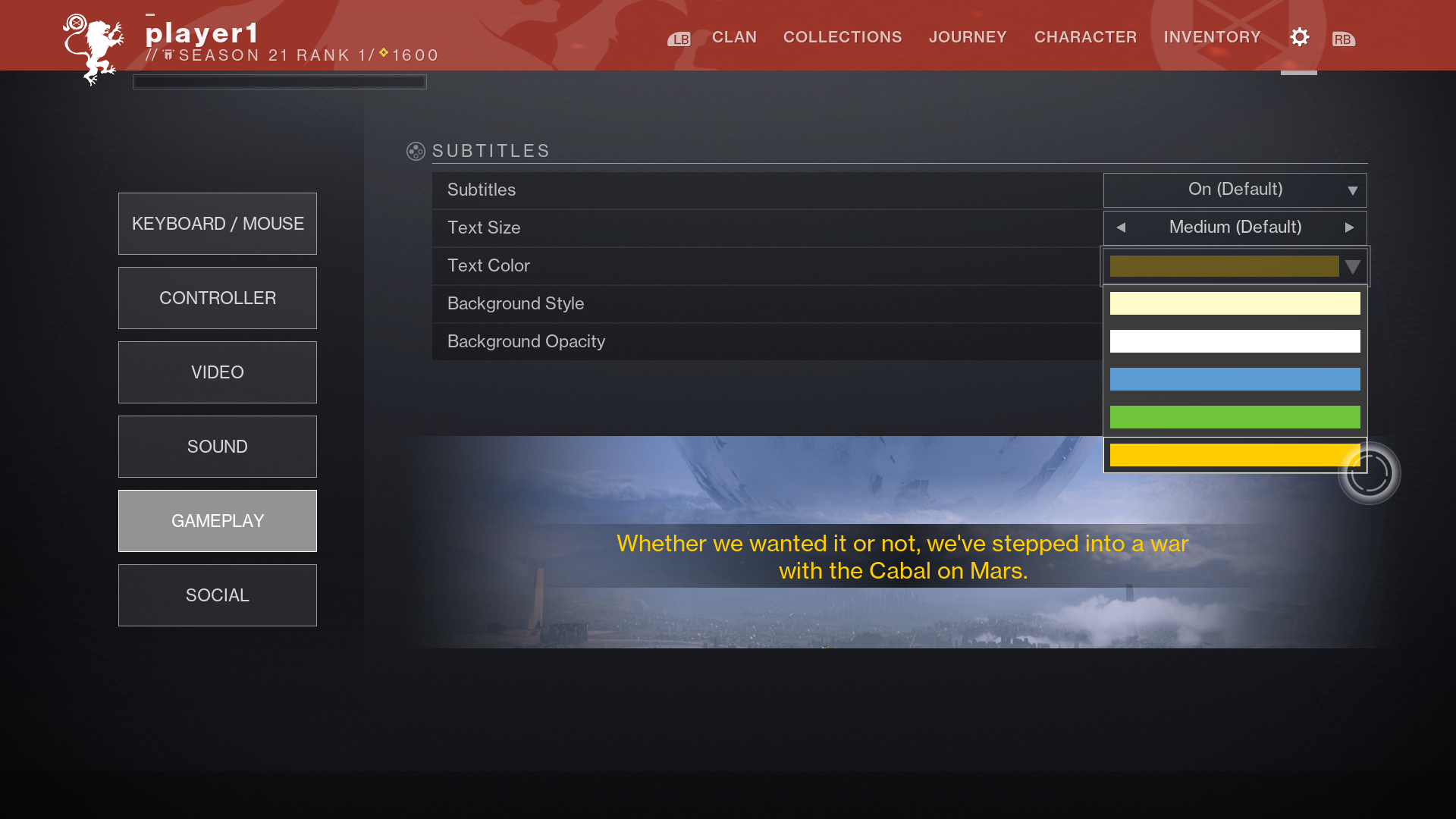 The Text Color setting has changed from a carousel (left to right navigation) to a dropdown.
Tinted rectangles have been added to replace the text so players can preview the color exactly as they will see it before making a selection, matching the pattern used for reticle colors.
A "yellow" yellow option has been added in addition to the default "yellowish" yellow.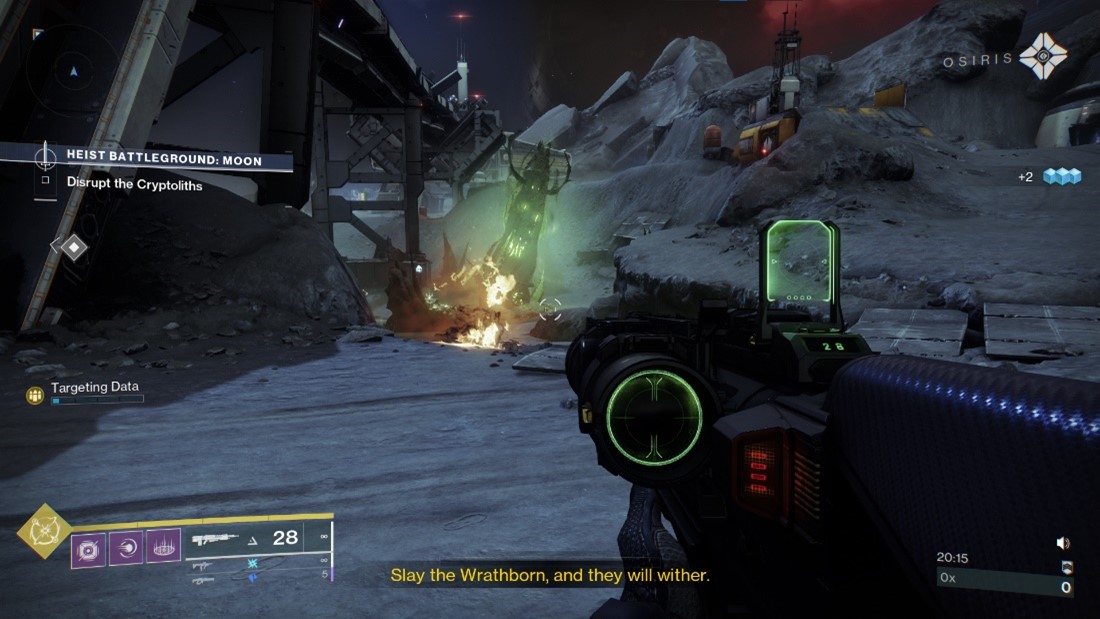 Commendations
A Peek Behind the Development of Commendations
From the start, accessibility has been an important cornerstone of Destiny 2's Commendation system.
Destiny currently supports four different visual color profiles, so fine-tuning a suite of colors for our needs as a feature that also met the needs of our players proved to be challenging. But worth it!
Originally, we were looking at ways to simplify our palette so that it worked across the board, but that would limit our visual design and could potentially lead to clashes we did not anticipate or expect (you would be surprised at what colors are "reserved" for specific aspects of Destiny 2).
Instead, we explored ways to tap into a system that already existed (but was not exactly utilized for a full-feature UI implementation), then followed up to define new constants for our needs and apply our additions to Commendations. Similarly, to how gear rarity color changes, our Commendations also shift with each setting. This means that whenever or wherever you are viewing Commendations, those colors all abide by the color preset you choose to play with.
We even got creative while authoring the variety of cards, breaking up the assets into manageable pieces that we could then apply a corresponding value to at runtime.
Some examples for those of you who play with the color preset off (default).
You will notice there are not a ton of differences between them, but for those who require a distinct color preset, the level of contrast surely does help distinguish one category from another!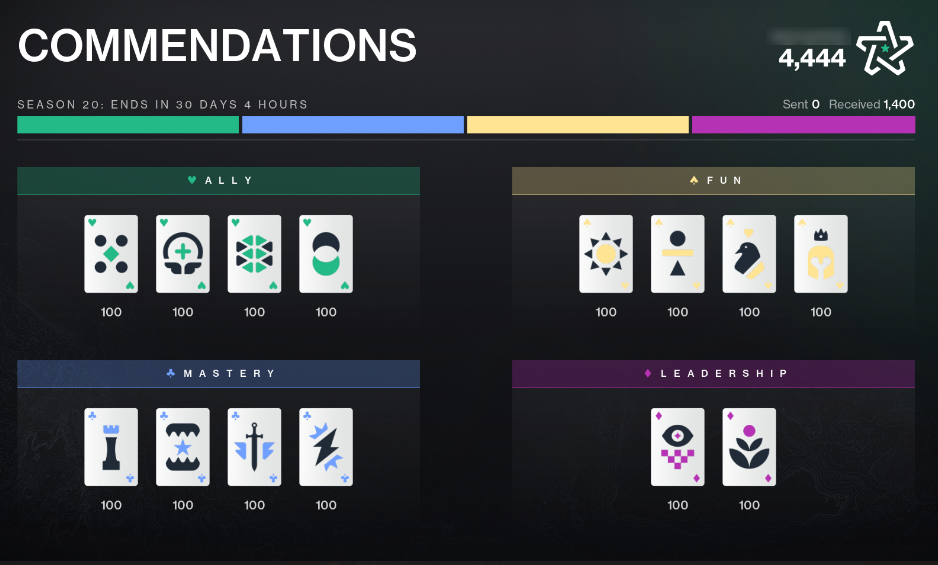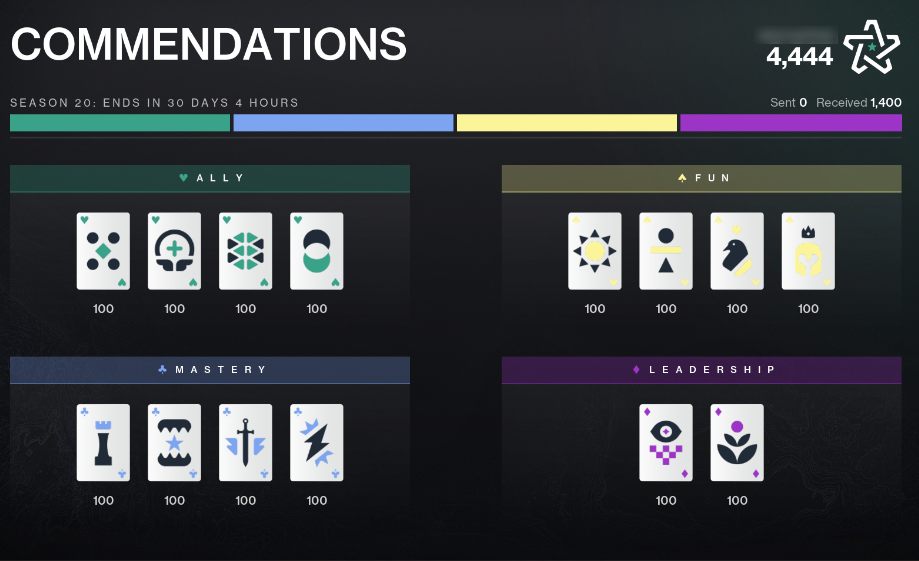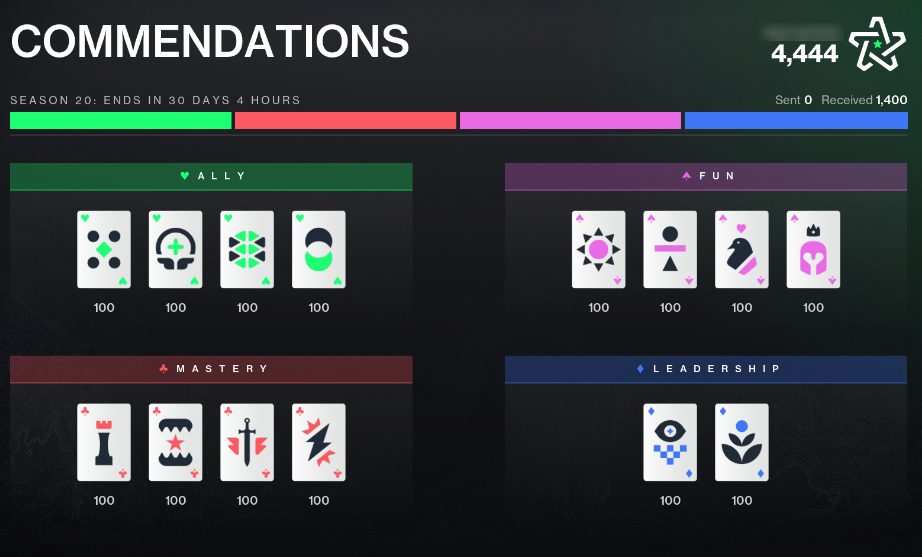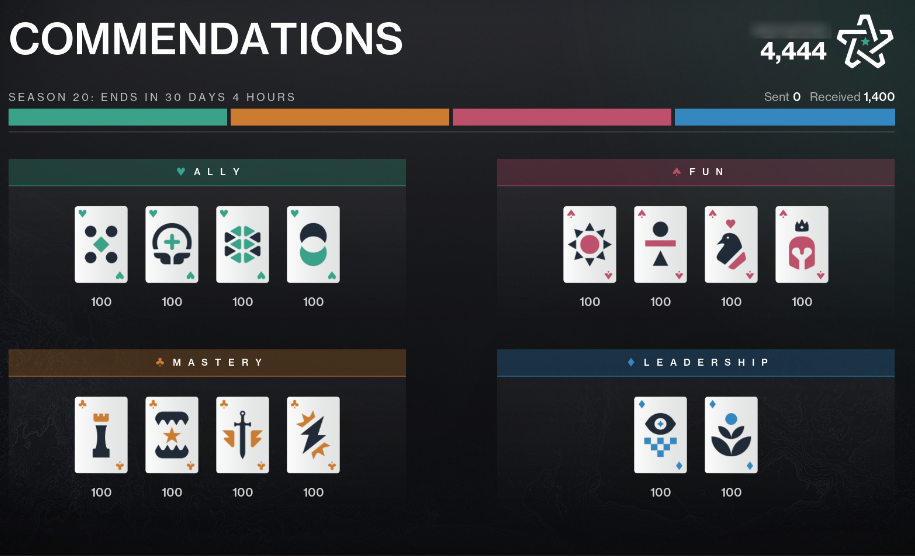 Regarding VFX:
A key part of the Commendations experience is the Post Game Carnage Report (PGCR) screen, where you actually hand out the Commendations to other players and shower them in sparkling explosions, themed to the category of Commendation they have received. We wanted to make sure all the efforts we made in coming up with the colorblind profiles for the UI elements were also respected when it came to this system. To do so, we tapped into the same system we use on a few other VFX systems, such as Raid mechanics, and enabled the Commendations VFX to change their colors based on the current colorblind settings of the player. By building this system as a template, we were able to tweak and modify the colors across every single particle just by changing the values on these eight nodes, making implementation quick and easy.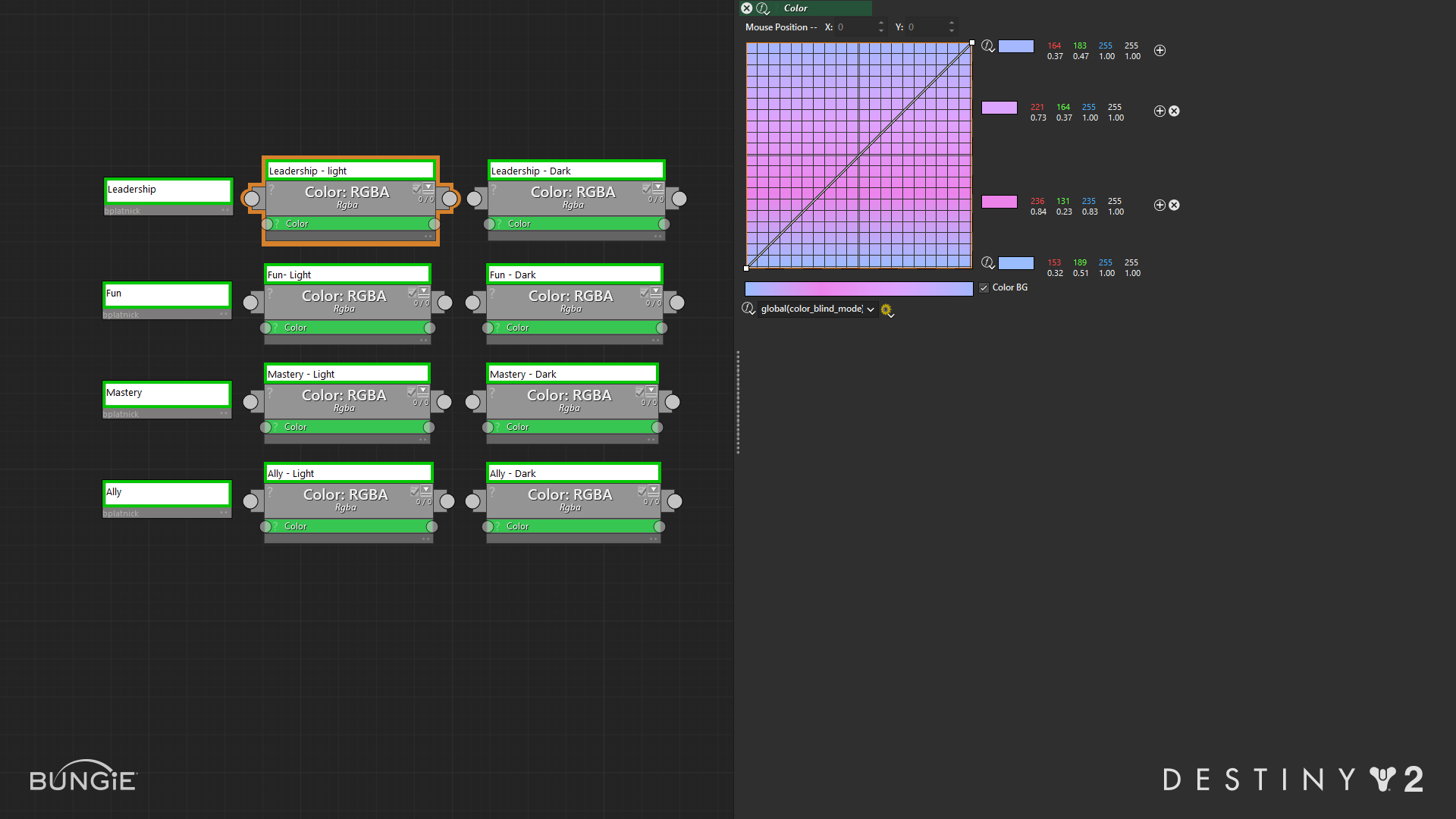 Below, you can see the results of this effort. From first to last, explosions for Mastery, Fun, Ally, and Leadership Commendations will play, and you can see how each colorblind profile setting changes them, some slightly, others in huge ways:
That's just a few of the things we've been working on behind the scenes to make the world of Destiny 2 a little more accessible for all Guardians. Gaming is for everyone and, while making a live game more accessible is an ongoing challenge that can take a great deal of time, we are completely committed to ensuring that Destiny 2 is a place where every Guardian feels welcome. It's a big reason why we started Accessibility @ Bungie and why we will continue to share resources and explore improvements behind-the-scenes.